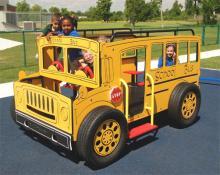 Kidstuff Playsystems began as Olympic Recreation in George McGuan's basement in 1982. At that time, Richard Hagelberg and his wife Cheryl were operating three child care centers. Richard met with George to review available playground equipment. George had a background specializing in complicated construction projects, and Richard had a background in Early Childhood Education. With the country in a deep recession, Richard and George agreed that building playground equipment was a viable business opportunity.
By 1985, their business had grown too large for the basement, and they opened a manufacturing facility in Gary, Indiana. Until 1996, their playground equipment was made from wood with steel climbers and plastic slides and panels. However, the market for wood playground equipment was shrinking. In that year, Olympic Recreation designed "FunZone" with powder-coated steel climbers, rotation-molded plastic decks, plastic slides, and panels using 3 ½" O.D. powder-coated steel posts. This system can be used in playground structures to accommodate children from toddlers to 12 year olds.
The U.S. Olympic Committee has legal rights to the name Olympic. So, Olympic Recreation officially changed its name to Kidstuff Playsystems in 2001.
Kidstuff Playsystems is committed to the safety of its playground equipment. George and Richard have both been certified as a Certified Playground Safety Inspector (CPSI) for many years. They are also Charter Members of the International Play Equipment Manufacturers Association (IPEMA) and comply with the U.S. Consumer Product Safety Commission (CPSC) guidelines and with the ASTM International (ASTM) F1487 standards. In 2004, Kidstuff achieved IPEMA certification for the first time. In July 2007, the company received its ISO 9001-2000 certification.1 Since the early '90s, all Playsystems have been designed to meet the Americans with Disabilities Act (ADA) standards.
Marketed as KidSoft, the company offers several playground safety surfacing materials, such as poured in place rubber surfacing, rubber tiles or mats, synthetic turf safety surfacing, loose rubber, and engineered wood fiber.2
KidsVision is a themed playground for ages 2 to 5. It features a Locomotive, Caboose, Train with Locomotive, Tank Car and Caboose, Pirate Ship, Castle, School Bus, and Fire Truck.
Kidstuff also manufactures Spring Things made from high-density polyethylene, 3/4" thick with a spring made from 3/4" steel rod that is powder coated. These Spring Things come in a variety of models, such as the Spring Car, the Spring Horse, the Spring Mushroom, and the Spring Turtle.
HealthTrek is a set of fitness stations with courses specifically designed for youth, the general population, seniors, and elite athletes. Among the 19 events are Push Up Bars, Log Jump, an Overhead Ladder for brachiating, a Leg Stretch Post, and an Abdominal Crunch Bench. Each station includes an instructional sign with 3 levels of difficulty.3
Kidstuff Playsystems' latest designs in the KidVision line are an "Alamo" Playsystem and an ecology-themed playsystem. The company is working on attaining ISO 14001 certification as a "green" company and is still run by the founders, Richard Hagelberg and George McGuan.
Kidstuff Playsystems acquired Recreation Creations in May of 2015. 27 May 2015." href="#footnote4_jh2tjio">4
1. Kay, Brady L. "The First 25." Today's Playground, May/June 2007.
2. "Safety Surfacing." Kidstuff Playsystems. < http://www.kidstuffplaysystems.com/safety-surfacing.php?menuOption=1&printable=0> 25 Aug. 2010.
3. "Health Trek." Kidstuff Playsystems. 24 Aug 2010.
4. "Kidstuff Playsystems Announces Acquisition of Recreation Creations from Worth Investment Group." Worth Investment Group. < http://www.worth-investments.com/index.php?option=com_content&view=article&id=116 > 27 May 2015.