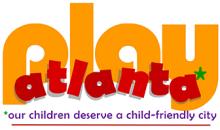 Play Atlanta, originally known as Atlanta Taskforce on Play (ATOP), is dedicated to educating people about the importance of play and to building more and better play spaces for the children of Atlanta, Georgia. They were formed in 2007 to satisfy one of the requirements for applying for KaBOOM!'s Playful City USA Award. Cynthia Gentry, a local artist and national play advocate, is the founding director.1
Working with the City of Atlanta's Department of Parks, Recreation and Cultural Affairs, in 2007, the Atlanta Taskforce on Play's efforts resulted in Atlanta become one of the 31 founding Playful Cities and has received that honor in subsequent years as well.2 They have also won a video grant competition awarded through Playful City USA.
To continue their goal to make Atlanta a great place to raise children and have great places to play, the Play Atlanta has hosted playful events, such as the Great Atlanta Play Day, a Backyard Campout, and the WooHoo! Play Video Award Show.3 They have brought the Imagination Playground loose parts program, Imagination in a Box, to local schools. Play Atlanta has also initiated and facilitated the child-led designing of a treehouse place space for Camp Twin Lakes, a camp which serves children and young adults with serious illnesses and disabilities.4
In 2009, the organization launched their first competition in play space design, the Playable10 International Design Competition, in conjunction with Georgia Tech College of Architecture. Designers were invited to create play spaces with "a sense of place, wonder and fun so strong that they will entice children, teens and adults outdoors to play."5
The four phase competition began with PlayableKids, a gathering of children's designs of play spaces to provide inspiration for the next three design competitions: PlayableArt, designing a play space for a downtown Atlanta park; PlayableSite, designing play spaces along a 22 mile greenway park around Atlanta; and PlayableDIY, designing for individuals, organizations, and communities who wanted to build their own play spaces.6
Playable10 International Design Competition has become an "annual global search for inspiring play design" and continues to promote the competitions to "create innovative, inspiring, sustainable, multigenerational playspaces with the power to change communities and lives."7
1. "Cynthia Gentry's Page." PlayAtlanta. 30 Aug. 2011.
2. "List of 2011 Playful City USA Communities." KaBOOM! 4 Sep. 2011.
3. "The City of Atlanta Wins its Second Playful City USA Award." GeorgiaFrontPage.com. 30 Aug. 2011.
4. Fox, Catherine. "Proponent for Playtime." Atlanta Journal – Constitution. 30 Aug. 2011.
5. "Jury, Criteria." Playable 10: International Design Competition. 13 July 2011.
6. Ibid.
7. "Updates." Playable10: International Design Competition. 13 July 2011.