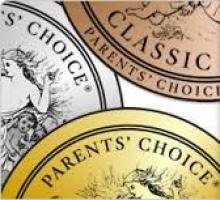 Author and educator Diana Huss Green gathered a group of parents who were concerned that their high standards for their children's education were not being fulfilled. In 1978, they formed the Parents' Choice Foundation, a non-commercial clearinghouse to review children's books, toys, music, television, software, video games, websites, and magazines. They wanted to give parents "reliable unbiased information about tools to help their children learn, to explore new challenges, to discuss ideas and to pursue dreams."1
With a mission to provide parents with information that they can use to participate in their children's learning outside the classroom, Parents' Choice recommends products that help kids grow "imaginatively, physically, morally and mentally."2 The products must also be fun, safe, fairly priced, and socially sound.
A multi-tiered evaluation process for the Parents' Choice Award program results in suitable products being placed in one of six award categories: Classic, Gold, Silver, Recommended, Approved, and Fun Stuff.3 Their panels of educators, scientists, performing artists, librarians, parents, and kids identify the best products for different aged children who have different backgrounds, skills, and interest levels. All products must be bias free and not celebrate violence. They also look for products that will help parents and children connect and that will teach without being preachy.
Some of Parents' Choice "Best 25 Toys of 25 Years" include Little Tikes Big Dump Truck, Big Loader, and Cozy Coupe; Milton Bradley's Pictionary Junior; Hasbro's Rubik's Cube; Manhattan Toy's Skwish Classic and Groovy Girls – J Series 13"; and the Original Rollercoaster by Anatex Enterprises, Inc.4
Besides guiding parents, Parents' Choice lists assist educators in planning their lessons plans, store owners with their buying decisions, and the press and their coverage of toys and trends. Their online newsletter, Parents' Choice, is another source of information as well as their parent guides, reading lists, learning activity ideas, and travel ideas. Their motto is to assist families to "Read More, Play More and Learn More."5
Believing that play is essential, Parents' Choice recognizes that "Play helps us become creative and critical thinkers, and guides us to be more productive and socially adept. Play keeps us imaginative and curious. What can we do to encourage play? We can give our children the time, the space and the tools; the rest is up to them."6
They agree with Christopher Bensch of The Strong National Museum of Play who clarifies, "A classic toy is one that has open-ended play value, with on-going appeal that makes it endure. A classic toy is expandable and offers on-going possibilities for creative play."7 For this reason Parents' Choice warns that their lists are not necessarily of the "hot toys," but rather toys with staying power and play value for children and their families.8
1. "Parents' Choice Foundation." Parents' Choice. < http://www.parents-choice.org/aboutpcf.cfm> 5 Aug. 2011.
2. Ibid.
3. "Parents' Choice Awards." Parents' Choice. < http://www.parents-choice.org/aboutawards.cfm > 5 Aug. 2011.
4. "Best 25 Toys of 25 Years." Parents' Choice. < http://www.parents-choice.org/article.cfm?art_id=347&the_page=editorials > 5 Aug. 2011.
5. "Reading, Learning & Play." Parents' Choice. < http://www.parents-choice.org/rlp.cfm > 17 Aug. 2011.
6. Green, Claire S. "Back to the Future." Parents' Choice. < http://www.parents-choice.org/article.cfm?art_id=381&the_page=editorials > 5 Aug. 2011.
7. Ibid.
8. Op.cit., "Parents' Choice Foundation."