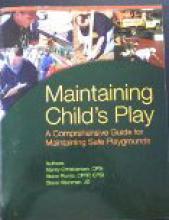 Maintaining Child's Play offers a comprehensive approach to playground maintenance with the goal of preventing or minimizing injuries on the playground, legally protecting playground installers and operators, and facilitating the longevity of playground equipment. Built on The Playground Maintenance Diamond of Care, co-authors Monty Christiansen, Steve Plumb, and Steve Kleinman discuss playground liability, playground inspections, maintaining play equipment and surfacing, record keeping, and documentation.
Published by Park District Risk Management Agency in 2010, Maintaining Child's Play focuses on four functions of playground maintenance: safety of the playground and equipment, optimum functioning of the equipment and play area, sanitation of the play area, and the aesthetic cleanliness of the playground so as to encourage visitors.1 They recognize that a systematic maintenance approach in all these areas involves organization, training, resources, and accountability.
To achieve these objectives the authors propose The Playground Maintenance Diamond of Care model to accomplish these goals cost effectively. The diamond has four parts, starting with Knowledge which is utilized by regular Inspections. Corrective Actions are then made and confirmed through Documentation.2 This proactive approach reduces the likelihood of injuries on the playground and extends the life of the playground equipment.
The Knowledge step includes an understanding and application of the "standard of care" as outlined by the U.S. Consumer Product Safety Commission's (CPSC) Public Playground Safety Handbook and the ASTM International standards. The authors warn that "Ignorance of playground standards, laws, and guidelines not only increases the risk to users, it will make it much more difficult to defend your organization following a serious injury."3
Built on the Knowledge step are the Inspections, which involve both "high-frequency" inspections and "low-frequency" inspections. In addition to the "low-frequency" seasonally scheduled in-depth inspections for equipment and surfacing wear issues which are common to recommend, the authors also recommend frequent inspections for "things that change rapidly in the playground environment, including loose-fill surfacing, vandalism, broken equipment, litter, sanitation, etc."4
An extensive chapter is included on what entails a full inspection for common types of play equipment and play space fencing, amenities, and fall surfacing. For instance, on "Swing Frame, Swing Assembly and Swing Seats," Maintaining Child's Play addresses common maintenance problems, tools that would be needed for inspecting, and a detailed suggested inspection process.5
These Inspections most likely will lead to Corrective Actions needed to restore or maintain the playground as a safe place for play. Their belief is that "one of the most challenging aspects of a playground operator's job is to empower their playground safety inspector and maintenance technicians to determine what to do when playground equipment is worn, damaged, or vandalized."6
These types of decisions are facilitated through the seven chapters on maintaining play equipment materials of concrete, wood, plastic, and metal, as well as their required fasteners and fall surfacing. Additionally,they have a separate chapter on determining when to take play equipment out of the playground and a guide on common parts that should be kept in stock to partially avoid such action.
After Corrective Action is taken, the final piece of The Playground Maintenance Diamond of Care is Documentation. Besides a chapter on playground liability, which highlights the realities and necessities of performing and documenting playground maintenance, the authors also provide a separate chapter on record keeping. Included are numerous sample forms and checklists as well as suggestions on keeping all documentation organized and accessible. They warn that "In today's litigious society, you must become a master of your own legal destiny."7
The authors propose that utilization of the book's "Diamond of Care" will guide industry professionals to "identify, evaluate, and act upon most major playground inspection, maintenance risk and management issues."8
1. Christiansen, Monty, Steve Plumb, and Steve Kleinman. Maintaining Child's Play. Park District Risk Management Agency, 2010. p. 1.
2. Op.cit., Maintaining Child's Play, p. 22.
3. Op.cit., Maintaining Child's Play, p. 19.
4. Op.cit., Maintaining Child's Play, p. 20.
5. Op.cit., Maintaining Child's Play, pp. 210-212.
6. Op.cit., Maintaining Child's Play, p. 21.
7. Op.cit., Maintaining Child's Play, p. 14.
8. Op.cit., Maintaining Child's Play, p. 22.