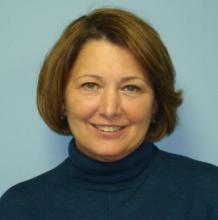 Teresa (Teri) Hendy earned a Bachelor of Science Degree in Art and a Teacher's Certificate from Miami University in 1974. For the next four years she taught Art and Industrial Arts for grades K-8 in the Reading Community Schools of Reading, Ohio. This strong background in child development, education, and fine art has enhanced her ability to design outdoor children's learning environments in the playground industry.
Starting in 1983, Teri began consulting in the playground industry on a part time basis. In 1988 she started Site Masters Inc, a business owned by women based in Cincinnati, Ohio. As president and owner, Teri has been an active consultant on design and safety issues for schools, parks, and the courts for the past 20 years.
Since 1987, Teri has been involved with developing, shaping, teaching, and promoting the safety standards through the ASTM International (ASTM) subcommittees, the U.S. Consumer Product Safety Commission, and the National Playground Safety Institute (NPSI).
She is the chairperson of the ASTM F15.09 Subcommittee, which created the safety standard for residential play equipment. She also was the chairperson of the entrapment task group within the ASTM F15.29 subcommittee that created the safety standard for public playground equipment. With concern to children under two years of age, Teri was on the ASTM subcommittee F15.44, which developed the safety standards for their playground equipment as well as the ASTM subcommittee F15.36, which developed the safety standard for soft contained play systems. She also assisted in developing the safety standards for Impact Attenuation of Surface Systems Under and Around Playground Equipment on the ASTM subcommittee F08.52.
She has served on the ASTM Executive Committee 15.90, which oversees all the F15 subcommittees. In 1996, Teri was honored by the ASTM Committee on Consumer Products with their Award of Recognition for distinguished and outstanding leadership and service in the F15 Committee in the developing of the industry standards. Later, in 2001, she was also honored by the ASTM Committee on Consumer Products with their Outstanding Achievement Award for significant and technical contributions to all initiatives concerning playground safety.
With Teri's depth of knowledge of the safety guidelines in the playground industry, she has also been the Chair of the National Playground Safety Institute (NPSI), Chair of the NPSI Curriculum Committee, the main author of their Playground Safety Inspectors Course Curriculum, an instructor of safety instructors, and an executive board member. In 1997, she was given an Award of Appreciation by NPSI and has similarly received Awards of Appreciation from the National Recreation and Park Association (NRPA).
Additionally, Teri developed an educational program to teach how to implement the Americans with Disabilities Act Accessibility Guidelines for Play Areas, for the U.S. Access Board through the National Recreation and Park Association.
Teri's company, Site Masters, has developed a comprehensive system of playground hazard identification, site analysis, maintenance, and risk reduction for schools, science centers, zoos, parks, botanical gardens, and family fun centers in the United States in addition to offering play equipment designs and playground environment designs.
With her extensive playground safety background, Teri is a litigation consultant concerning ASTM Standards, playground injuries, accident investigations, risk management, and products liability.
Teri has been a safety consultant for Burger King Corporation and McDonalds Corporation for the play equipment in their restaurants. For 15 years she has been a consultant for PlayCore/GameTime in their production design and development team. Besides advising on ASTM and ADA compliance, she consults on product age appropriateness, function, aesthetics, and marketability.
She has also assisted in curriculum development and exhibit designs for public and recreational agencies, such as schools, child care centers, and museums. One example of Teri's work is a geometry playground called Inside Geometry:  A Mathematical Playground for the Mind and Body, which is a 5000 square foot traveling exhibit for the Exploratorium in San Francisco, CA, which Teri is advising. This immersive exhibit will build geometrical understanding and spatial reasoning skills through body and mind experiences. Parts of the traveling exhibit will be adapted and installed in public playgrounds and will be the beginnings of geometric playgrounds throughout the U.S.
Three different park and playground designs of Teri's were awarded the Ohio Park and Recreation Association's Award of Outstanding Facility:  the Juilfs Park in 1987, the Forest Road Park Accessible Playground in 1989, and the Kwanzaa Playground at English Park in Columbus, Ohio in 1995.
Teri is also the author of Jungle Gym or Brain Gym? which explores more than 80 brain research studies that, "suggest that the development  of motor skills (movement) helps to facilitate academic readiness and learning."1  She makes the case for "creative free movement" which "enables children to test their skills, try new ideas, and seek challenges that cannot be duplicated in other environments."2
Teri is a founding member and director of Play 4 Life, a non-profit organization that focuses on the importance of play for people of all ages. She has also served as an adviser and is on the board of Voice of Play since its inception in 2007. As a professional in the playground industry, Teri has been a board member of the non-profit Community Built Association, which assists communities to build safe parks, playgrounds, and other community projects.
Teri has also been involved with her three children's schools and the community on several non-profit organizations, committees, and foundations. Personally, she enjoys active play in the hiking and golfing way, and as an artist enjoys the theater, museums, and galleries. As Teri says, "I am an artist at heart…When I have an opportunity to design a play environment, I look at the play area as a sculpture, focusing on form, texture, and color. How something looks and feels is very important to me. I want the child to become immersed in their environment."3