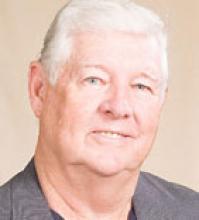 For 40 years Dr. Louis Bowers was a physical education researcher, grant writer, professor, author, and administrator in the higher education arena with a specialty in Adapted Physical Education and a focus on the development of children with disabilities through play.  As a Distinguished University Professor Emeritus at the University of South Florida in Tampa, Florida, he continues to conduct research, write, and volunteer his professional services to the community.
After lettering in football, basketball, track, and baseball all four years at Buras High School in Louisiana, Dr. Bowers attended Southwestern Louisiana Institute to study both Health and Physical Education and Science. He graduated in 1958 with the goal of pursuing research and teaching physical education at the university level. His first step was to earn a Masters Degree in Physical Education from the University of Maryland in 1960 and to teach and coach at Dundalk High School in Baltimore, Maryland.
While in Baltimore, Dr. Bowers read of the plans for a new University of South Florida (USF) in a Time magazine article and decided it sounded "adventurous and exciting."1 He applied to both USF and his alma mater, which had just become the University of Southwestern Louisiana (USL). At that time USF did not respond, but in 1960 USL invited him to become a faculty member in their Health and Physical Education Department. While there for seven years he established and directed the Children's Motor Development Clinic, which utilized USL physical education majors to teach local children with disabilities.2 Nearly thirty years later in 1998, USL honored Dr. Bowers with their Distinguished Alumni Centennial Award.
Dr. Bowers earned his Doctorate degree in Physical Education and Psychology in 1964 from Louisiana State University, while on leave from USL. Three years later, after a chance meeting on a plane with the chairman of the Department of Physical Education at USF, Dr. Bowers was offered an opportunity to be a part of their new Professional Physical Education Department and to be responsible for designing and teaching the integrated science of human movement courses in the program.
In 1967, he joined the USF faculty and assisted in shaping a program which focused on integrating informational coursework with practical internship teaching experiences in the local schools. They also integrated the courses such that, for example, kinesiology, exercise physiology and adapted physical education were taught by Dr. Bowers as one six hour credit course instead of being three separate courses. Dr. Bowers expressed the importance of helping to educate a quality teacher who could "go out and influence in a positive way, the lives of thousands of students in their elementary, middle, or high school physical education classes throughout their teaching career."3
By including adaptive physical education courses, USF became one of the first universities in the U.S. to train teachers to teach physical education to children with disabilities.4 In 1968, Dr. Bowers received a federal grant from the Bureau of Education for the Handicapped to develop a master's degree program in Physical Education which specialized in Adapted Physical Education. The following year in 1969, Dr. Stephen Klesius joined Dr. Bowers at USF to further develop this program. Over the next 30 years they secured 55 different grants which approximated $4.5 million for research, student support, and program development.5 Later, in 2005, based on his experiences, Dr. Bowers authored a book entitled, "Physical Educators' Guide to Successful Grant Writing,"6 which was published by the National Association for Sport and Physical Education.
With Dr. Klesius, Dr. Bowers produced the "I'M SPECIAL" video series in 1980 through a US Department of Education grant. These 15 videotapes which lasted 15 minutes each were designed to be used in preparing physical education teachers to also become adaptive physical education specialists. Due to popular demand, they applied for and received a second grant to facilitate the use of the "I'M SPECIAL" tapes by university professors. They prepared 350 professionals who then provided adapted physical education teacher training throughout the United States and in Brazil.
A decade later in 1990, Drs. Klesius and Bowers presented a two week workshop in Tampa built around the "I'M SPECIAL" tapes with American teachers from U.S. military bases around the world. Two years later, Dr. Bowers was contracted to travel to military bases to prepare teachers to teach adaptive physical education to children on bases in Cuba, Bermuda, England, and Belgium.
Also with Dr. Klesius in 1986, Dr. Bowers produced an interactive videodisc, "Analysis of Motor Skills Learning System," which taught teachers to analyze basic physical skills utilizing a touchscreen computer controlled system. While the learning system proved to be effective, technology moved on and videodisc systems soon became obsolete. Over five years, 1995-2000, they created "Physical Activity for All" on a DVD, which contained a vast array of teaching techniques, physical activities, and evaluation models for teachers of Adapted Physical Education.
As a visiting professor, Dr. Bowers presented on Adapted Physical Education at the University of Missouri, the University of Waterloo, Western Michigan University, Texas Women's University, Ohio State University, Long Beach State University, and five Brazilian universities. In this way, he furthered this specialized field of physical education.
One of Dr. Bowers' first grants in 1974 provided for research involving designing, building, and evaluating an accessible Developmental Play Center for children with disabilities. By studying children with cerebral palsy on the playground Dr. Bowers found that their play behaviors were much the same as non-disable children and that a playground with ramps and handrails, which was designed for safety could serve all children. He concluded that "These children had the same desires and need to play as other children given an environment in which they can play like they want to."7 At the time, it was felt that separate playgrounds were needed for children with disabilities. Dr. Bowers' research and designing of over 88 accessible playgrounds began the accessible playground movement, which led to the American Disabilities Act standards for Playgrounds.
Dr. Bowers was a founding member of the National Association for Sport and Physical Education, Committee on Play from 1980 to 1989 and served as its first chair. He developed the NASPE Playground Safety Checklist and directed the first National Survey of the Safety of Elementary School Playgrounds in the United States. He also served on the National Playground Safety Board for ten years.
He served for two years as president of the National Consortium for Physical Education and Recreation for Persons with Disabilities (1982-1984) and received their Distinguished Service Award in 1986 and their Distinguished Scholar Award in 1988.8 He was also named the Adapted Physical Educator of the Decade 1990-2000 by the Palastrae Magazine.
Besides acquiring grants, conducting research, and teaching undergraduate and graduate courses, Dr. Bowers also served as Chairperson of the Professional Physical Education Department at USF three different times: from 1970-1973, from 1980-1984, and from 1991-2000. The last term involved the department's achieving the status as the School of Physical Education, Wellness & Sport Studies.9
USF honored Dr. Bowers with an Award for Excellence in Undergraduate Teaching in 1989, a Distinguished Service Award in 1995, and awarded him a Distinguished University Professorship Title for Distinguished Teaching, Research and Professional Service in 1996.
Though Dr. Bowers retired from USF in 2000, he continues to consult and design playgrounds, conducts research on play behaviors and caloric expenditure of children on play structures for both GameTime and KOMPAN, and speaks at national conferences. He is a member of the American Alliance for Health, Physical Education, Recreation and Dance; the National Recreation and Park Association, the National Consortium on Physical Education and Recreation for Individuals with Disabilities, and is president of the Sports Club of Tampa Bay.
According to Dr. Bowers, "Physical activity in play is critical for healthy lifestyles and the development of the mind, body, and spirit. Physical activity contributes toward a healthy body composition, psychological well-being, and assists in bone development."10 His research indicates that unstructured play at recess, structured classroom activities, and physical education positively impact learning, health, and behavior of elementary age children. He concluded, "We must value and provide our children with every opportunity to be physically active in play; they need it, they desire it, and they deserve it."11
1. "College of Education Faculty Oral Histories." USF 50th Anniversary. < http://fcit.usf.edu/coedu/faculty_histories/dr_bowers_01.html > 3 Feb. 2012.
2. "Dr. Louis Bowers, 1958." Louisiana's Ragin Cajuns Athletic Network. 14 June 2012.
3. "Louis Bowers." USF: Unstoppable, The faculty and staff campaign. < http://usfweb2.usf.edu/fscc/Donor_Details.asp?id=183 > 10 June 2012.
4. "The New Physical Education, School of Physical Education, Wellness, and Sport." USF College of Education Fifty-Year History. < http://fcit.usf.edu/coedu/school_pe_wellness.html > 10 June 2012.
5. "Federal Grants and the Development of Master's Degree Programs, School of Physical Education, Wellness, and Sport." USF College of Education Fifty-Year History. < http://fcit.usf.edu/coedu/school_pe_wellness.html > 10 June 2012.
6. Bowers, Louis. Personal Correspondence to Playground Professionals. 10 July 2012.
7. Op.cit., "College of Education Faculty Oral Histories."
8. Op.cit., "Dr. Louis Bowers, 1958."
9. .cit., Bowers. Personal Correspondence to Playground Professionals. 10 July 2012.
10. Bowers, Louis. "Physical Activity, Creating healthy bodies through play." Words on Play, A treatise on its value by leading play scholars. PlayCore 2011 brochure. p. 10. Print.
11. Ibid. p. 11.