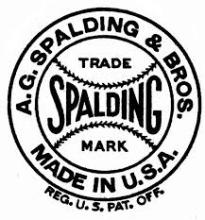 History of manufacturing sporting goods
A.G. Spalding & Bros. Inc., an American sporting goods company, opened its first store in Chicago in 1876. Eventually known simply as Spalding, the company has had a long history of manufacturing baseballs, footballs, basketballs, volleyballs, soccer balls, and a wide range of athletic equipment and clothing.
Who is Albert goodwill Spalding?
Albert Goodwill Spalding was born in 1850 in Byron, Illinois. Albert began playing baseball competitively in 1865 as a teenager with the Rockford Pioneers. He played on an amateur men's team for another two years where he attracted offers to play professionally. However, his mother influenced him to enter the business world, and he worked a number of jobs in the grocery, newspaper, and insurance industries. When these businesses failed which resulted in Albert having to find other employment, he returned to seeking positions with professional baseball teams.
He was initially hired to play professional baseball with the Chicago Excelsiors for $40 a week. In 1871 Albert joined the Boston Red Stockings as a pitcher where he played for five years.1 He became the first professional to ever win 200 games and he led Boston to win four consecutive National Association titles.
In 1876 the Chicago White Stockings contracted with him to manage and pitch for their team with a $500 raise and a promise of a quarter of the White Stockings' gate.2 Along with part owner William Hulbert, Albert shared the desire to rid the game of the gambling element and elevate the sport.3 Albert won 47 games that year and the team won the inaugural National League title of the newly formed league.4
The National League of Professional Baseball Clubs standardized the rules and regulations of the game as well as the requirements for the standard ball. The size and weight of the baseballs had varied widely, and they were often made by the pitchers who used them. Albert convinced the National League to adopt his ball as the standard.5 By paying the League to use his balls, he could advertise them as the "official" league ball.6
From player to connected businessman
He left professional baseball as a player after five seasons and established A.G. Spalding & Bros. Inc. in Chicago to begin manufacturing the baseballs with his brother J. Walter Spalding and eventually his brother-in-law, William Brown. The company experienced success quickly with Albert's fame and connections in the baseball world.7
Spalding's baseballs became the official ball of the National League for the first 100 years from 1876-1976 and of the American League from 1889-1973. In 1877 the company began manufacturing the first major league baseball gloves and expanded their offerings to include a wide range of products.8
In 1878 the company had the contract to publish the "official league book," which outlined the rules and regulations of the game. They capitalized on this by also publishing an annual Spalding's Official Baseball Guide, which included overviews of the preceding season, records, coaching, and editorials by Albert that helped shape public thought about baseball. It was also a great advertising vehicle where the company displayed their extensive line of sporting goods.9
Expanding beyond the baseball
In 1887 the company developed and manufactured the American football. In 1894 Dr. James Naismith, the creator of the basketball game, asked the company to develop the official basketball, and in 1895 the request to develop a volleyball also was made. By 1900, the company was the largest manufacturer of baseball bats in the United States.10 They entered the golf market by innovating golf balls and equipment as early as 1896.11
In the early days of the playground movement, A.G. Spalding & Bros. also produced large all-steel playground apparatus that included ladders, sliding poles, parallels, teeter-totters, and swings as well as gymnasium equipment.12
While operating his sporting goods business, Albert became secretary of the White Stockings, and then President in 1882 when Hulbert died. He worked tirelessly to produce a clean game that drew respectable citizens to the ballpark. His team dominated the other teams in the 1880s, and in 1888 he assembled an All-American team of players to tour the world promoting the game. He stepped down as President in 1892, which ended his close involvement with baseball, although he continued to support the game until his death in 1915. Spalding was inducted into the National Baseball Hall of Fame in 1939.13
As A.G. Spalding & Bros. expanded their company to include other sporting games, they introduced their Library of American Sports series, which was renamed Spalding's Athletic Library offering more than 300 separate publications on sports and physical activity, such as baseball, football, soccer, tennis, golf, water polo, volleyball, and fencing.14
The company moved the headquarters from Chicago to Chicopee, Massachusetts. By 1917 there were 33 sporting goods stores in the U.S. and 15 overseas stores in England, Scotland, Canada, Australia, and France.15 As well as a place to purchase equipment, the stores became places of learning with their knowledgeable sales staff available to guide their customers.16 Their seasonal catalogs allowed other retailers to order directly from them as long as they maintained the policy that mandated quality, fixed retail prices, a fair profit to retailers, and consumer satisfaction. "Quality First" became the company's slogan.17
In 1930 the company developed the first liquid center golf ball, which was a major technological advancement in golf balls. Further improvements were developed in 1968 with the first 2-piece performance golf ball.
The distinction of being selected as offering the official basketball for the National Basketball Association (NBA) came in 1983 followed by other official designations in the sports of soccer and volleyball tournaments.
Now known simply as Spalding, the company has continued to be a leader in new innovations and is a major supplier of sports equipment around the world.18
1. "Albert G. Spalding." Who Made America? PBS.org. < http://www.pbs.org/wgbh/theymadeamerica/whomade/spalding_hi.html > 22 May 2017.
2. "A.G. Spalding." American Studies at the University of Virginia. < http://xroads.virginia.edu/~hyper/incorp/baseball/spalding.html > 22 May 2017.
3. Cozzens, Peter. "Forgotten Powerhouse: The 1876 Chicago White Stockings." The National Pastime Museum. < https://www.thenationalpastimemuseum.com/article/forgotten-powerhouse-1876-chicago-white-stockings > 24 May 2017.
4. Op. cit., "A.G. Spalding."
5. Stamp, Jimmy. "A Brief History of the Baseball." Smithsonian.com. < http://www.smithsonianmag.com/arts-culture/a-brief-history-of-the-baseball-3685086/ > 22 May 2017.
6. Op. cit., "A.G. Spalding."
7. MacKenzie, Douglas. "A G Spalding and Bros: From baseball to golf." Antique Golf Clubs from Scotland. < http://www.antiquegolfscotland.com/antiquegolf/history.php3?itemid=36 > 22 May 2017.
8. "From the Beginning." Spalding Basketball. < http://www.spalding-basketball.com/en/about-spalding/history/ > 22 May 2017.
9. Op. cit., "A.G. Spalding."
10. Op. cit., "From the Beginning."
11. Op. cit., MacKenzie.
12. Advertisements found in The Playground, the monthly journal of the Playground Association of America.
13. McMahon, Bill. "Al Spalding." Society for American Baseball Research. < https://sabr.org/bioproj/person/b99355e0 > 24 May 2014.
14. Op. cit., "A.G. Spalding."
15. "Spalding 1917 Fall Catalogue." Internet Archive. < https://ia600300.us.archive.org/29/items/spaldingfallcata00agsp/spaldingfallcata00agsp.pdf > 24 May 2017.
16. Op. cit., "A.G. Spalding."
17. Op. cit., "Albert G. Spalding."
18. "About Us. A Storied History." Spalding. < https://www.spalding.com/about-spalding.html > 8 Jan. 2019.