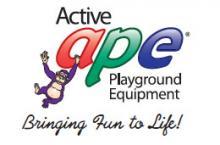 Active playground equipment
Active Playground Equipment, Inc. is a Canadian manufacturer of commercial playground equipment located in Sarnia, Ontario. The company was incorporated in November of 1993 by brothers, Ben Prins and John Prins.1 They already had a successful safety surfacing company, SofSURFACES Inc., when they saw the need for a "turnkey" play space solutions company. Today Ben owns and operates Active Playground Equipment while John continues with SofSURFACES, Inc.
Active Playground Equipment, which is also known as APE, concentrated on providing quality service and products in SW Ontario for the first decade. In 2003 they expanded their "local rep" formula. In order to provide quality service to the rest of the population of Ontario, each consultant was located within one hour of their clients.
Keeping in mind their philosophy of "Keep-it-simple – FOR THE CLIENT," they now design, manufacture, and install four distinct categories of commercial playground equipment: Traditional Post & Deck equipment (Discovery and Xpedition), "Deckless/Asymmetrical" (Freestyle360), independent motion-based equipment (Active Motion), and Integrated Shade (SunSAFE).
In addition to their internally manufactured equipment they also represent a broad portfolio of complimentary products that enables them to provide turnkey playspace solutions for every client need. These products include a complete selection of safety surfaces, the Liberty Swing for wheelchairs, and adventure play items (climbing boulders, archeological "digs" etc.) as well as offering quality products from Nicros, Elephant Play, and Park Pets & Boulders.
To assist their customers further, they also have extensive fund raising assistance available.
In 2007 they introduced the Discovery series of post and deck equipment for those customers who need a compact, 40" x 40" platform footprint. Made with 3 ½" round posts and aluminum MultiFasteners instead of clamps, these custom play structures are designed for ages 18 months through 12 years.
However, for those customers with more space and more simultaneous users, APE has the Xpedition series with 48" x 48" platforms and 5" diameter posts for heavy duty play in schools and parks.
In 2008, for the children from ages 5-12, Active Playground Equipment introduced Freestyle360. The initial Alpha model is a non-linear, elliptical circuit constructed with 20 mm nylon wound steel core cables and interchangeable cross joints which allow individual cables to be replaced instead of the whole net.
Moving forward, in 2009, Active Playground Equipment introduced Touchdown, an independent division of the company that offers safety surface choices, such as ACTIVE turf, which is a three layer system consisting of a compacted self-draining subsurface, then a poured in place rubber impact attenuating surface, and finally a 88 oz. soft polyethylene artificial turf with interwoven thatch as the wear layer.
In 2011, the company launched a line of outdoor fitness equipment. This is meeting a great need for all adults in their growing search to remain healthy. The ActiveFit line of products are sold across Canada.2