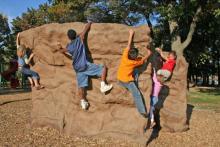 Nicros, Inc., a company which has built over one million square feet of climbing wall surface, was founded in 1992 by Nate Postma, who had a love for rock climbing and a background in chemical engineering.1 Two years later he was joined by Eric J. Hörst, an accomplished climber and a training products design consultant.2 The next year, in 1995, Nate's wife, Pam began managing the financial and human relations departments and serves as vice president of the company.3
Nicros designs and constructs climbing wall systems, playground boulders, handholds, and landing surfaces.4 With the experience of running large commercial climbing gyms, Nicros also offers staff training in risk management and safety.
Eric is known internationally as a leading authority on climbing performance and is widely recognized for his innovative practice methods, training tools, and several books on climbing. He is the editor of the online Nicros Training Center, which includes articles, videos, tips, guides, products, newsletters, and a format for asking questions.5 Nicros also provides training and certification programs for climbing wall instructors and managers through their partnership with Vertical Endeavors and The Climbing Wall Association (CWA).6
Nicros climbing walls include several designs that range from full size climbing wall systems to climbing panels and lighter weight models for second floor play spaces. In 2007, Nicros introduced a frame-free system for climbing walls that reduces the steel required for installation.7 They also have a climbing wall that simulates ice climbing.
In addition to climbing walls, Nicros also designs and produces handholds. Some handhold innovations include holds molded from real rock as well as the use of Nicros patented Extreme Hold Technology, which allows for large holds and volumes to be lighter than their resin-poured counterparts. Other handhold innovations include incorporating environmentally responsible corn/soy resin (2009) in the production holds as well as introducing holds with Versa-Centers, which allow the handholds to accept either flat head or cap screw bolts. In 2011, Nicros also started producing certain holds and training tools in urethane making Nicros one of the only handhold companies to offer both urethane and resin-poured holds.
Believing that climbing structures allow children to experience nature and test their abilities, Nicros offers five boulders designed for play spaces. Manufactured from fiberglass with an aggregate filled rock-like outer coating, the boulders feature ergonomic sculpted-in handholds that are rounded to avoid sharp edges and are designed to be "tennis shoe friendly."8
For play space landing surfaces, Nicros offers Nicro-Mat, Nicro-Mulch, Drop-Zone, connecting gymnastic-like landing mats, and loose chunk rubber fill.9
In 2003, Nate was a founding member of the Climbing Wall Association and has served on their Board of Directors. The CWA is a nonprofit trade association for manufacturers, builders, and operators of climbing walls and other involved in the industry.10 He also was a founding member of the Climbing Gym Association (CGA) and a past board member of the Climbing Wall Industry Group (CWIG).11
1. "About Us." Nicros. < http://www.nicros.com/about-us > 10 Jun 2011.
2. "About Eric." Nicros – Training. < http://www.nicros.com/about-eric/ > 14 Aug. 2011.
3. "About Nicros Employees." Nicros. < http://www.nicros.com/about-us/employees/ > 14 Aug. 2011.
4. "Overview." Nicros. < http://www.nicros.com/overview.cfm > 10 June 2011.
5. Op. cit., "About Eric."
6. "Instructor Training." Nicros. < http://www.nicros.com/climbing-wall-systems/instructor-training/ > 8 Aug. 2011.
7. Op.cit., "Overview."
8. "Playground Boulders." Nicros. < http://www.nicros.com/boulders.cfm > 10 June 2011.
9. "Landing Surfaces." Nicros. < http://www.nicros.com/climbing-wall-systems/landing-surfaces/ > 15 Aug. 2011.
10. Private correspondence to Playground Professionals, 8 August 2011.
11. Op. cit., "About Nicros Employees."