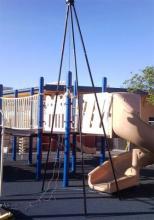 The Triax 2000 Surface Impact Tester (SIT) is a portable, free-fall playground surface impact tester. Children falling from playground equipment account for 79% of all playground equipment related injuries each year.1 The two factors that decide the severity of playground falls are the fall height and the type of surface in the play space. The Triax 2000 is used to assess the safety of the surfacing below the playground equipment based on the height of the equipment.
Standards have been set for "reasonably safe" playground equipment and surfacing by:
ASTM International (ASTM) – F1292-99
Canadian Standards Association (CSA) – Z614-98
Comité Européen de Normalisation (CEN) – Standard EN 1177
The Triax 2000 complies with all of these standards, and the testing equipment measures Gs, Head Injury Criteria (HIC), and impact velocity.2
Searching for a means to measure surface impact attenuation, Paul Hogan, the founder of Playground Clearing House and a Certified Playground Safety Inspector (CPSI), and Paul Bamburak of Alpha Automation, utilized a $45,750 grant from the Centers for Disease Control and Prevention to develop the Triax 2000.3 After 15 years of research and development, Hogan was awarded the patent for the Triax 2000 in 1996. Besides quantifying if a playground surface is compliant with safety recommendations, in the field the Triax 2000 can also aid in ascertaining if the playground surface was installed correctly or if it has deteriorated and needs replacing.4
The Triax 2000 equipment has a three dimensional aluminum head form weighing eight pounds that is suspended from a tripod that extends to a drop capability of 12'6". A pulley system allows the head form to be raised to an exact height that is then released by an electromagnetic release system operated from a hand-held computer that eliminates any unnecessary movement that could disturb the drop test.5
The Triax 2000 utilizes a triaxial accelerometer to measure the impact of the head form on the installed playground surface. The velocity, time, and date are automatically recorded for each drop as well as the Gs, HIC, and impact velocity. In the field an interpretive graph is generated on a small computer screen to illustrate the results. This data is later uploaded on a computer where comments can be added and the results can be printed.6
The standard set by ASTM for protective surfacing requires that surfaces perform at less than 200 Gs and 1,000 HIC for impact attenuation. These values indicate levels where life-threatening injuries or permanent disabilities are less likely to occur.7
Because impact velocity measurements are required in the United States, Canada, Australia, and New Zealand, the Triax 2000 system includes the Velocity Tripod for those areas. Additional services from Playground Clearing House include an indoor and outdoor training class and a yearly calibration to maintain the measurement integrity of the Triax 2000.8
1. Skulski, Jennifer K., CPSI. "City of Detroit Sets Strict Specs to Ensure New Playground Surfaces are Safe and Accessible." National Center on Accessibility. < http://www.ncaonline.org/making-the-grade/detroit.shtml > 28 Nov. 2011.
2. "Triax 2000." Playground Clearing House. < http://www.triax2000.com/triax_2000.html > 28 Nov. 2011.
3. "About Playground Clearing House." Playground Clearing House. < http://www.triax2000.com/aboutus.html > 18 Dec. 2011.
4. Op.cit., Skulski.
5. Op. cit., "Triax 2000."
6. Op. cit., "Triax 2000."
7. Op.cit., Skulski.
8. Hunter, Jeff. "Putting the Triax 2000 to the Test – Making Sure Surfaces Make the Grade." Today's Playground. May 2001: 14.