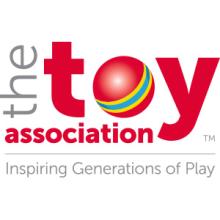 The Toy Association, Inc. is the not-for-profit North American trade association representing all businesses involved in creating and delivering toys and youth entertainment products for kids of all ages headquartered in New York, NY. It was founded April 21, 1916 as the Toy Manufacturers of America, Inc. and later renamed Toy Industry Association, Inc.  Now known as The Toy Association, the organization represents more than 950 members that collectively account for an estimated 90% of U.S. domestic toy sales. In 2016, retail sales of toys in the United States were $26.5 billion, per The NPD Group.
The Toy Association's mission is to be a unifying force for members' creativity, responsibility, and global success, advocating for their needs, and championing the benefits of play. The Association has several objectives in reaching this goal:
Championing the benefits of play
Developing the highest universal toy safety and quality standards
Protecting the rights of factory workers
Supporting free trade and fair representation on regulatory issues
Enhancing the image and growth of the toy industry 4 Oct. 2017." href="#footnote1_5a1y337">1
The Association has two classes of members. Regular members include manufacturers, developers, importers, or distributors. Associate members include testing laboratories, factory auditors, other trade associations, communications, or other businesses.
The Toy Association is committed to educating parents and caregivers about the value of play in children's lives. Spearheaded by The Toy Association, The Genius of Play is a national movement to raise awareness of play's vital role in child development. Deeply rooted in research and facts, The Genius of Play is a leading resource on the physical, cognitive, social, and emotional benefits of play. The Genius of Play enables today's busy parents and caregivers to use the power of play to help raise a happier, healthier, and more productive next generation. Its website has easily accessible play ideas and tips, expert advice, and other play resources.
The Toy Association's philanthropic arm, the Toy Industry Foundation (TIF), works year-round to bring joy and comfort to children in need through the experience of toys and play. Thanks to product donation programs, fundraising efforts, strategic partnerships, grant making, and public education, since 2003 TIF has been able to distribute $200 million2 in new toys to children living in poverty, suffering from chronic illness, rescued from crisis situations, in foster care, or encountering the stress of having a parent in the military. The Foundation's signature program, The Toy Bank, collects toys from manufacturers, distributors, and retailers and distributes them to children in need around the world.3
1. "About Us." The Toy Association. < http://www.toyassociation.org/ta/about-us/mission/toys/about-us/our-mission.aspx?hkey=5a11a3a8-3911-497e-bec0-3ed0ad3d4a0b > 4 Oct. 2017.
2. Note: As of December 31, 2016.
3. Information received from Anna Yudina of The Toy Association via email dated 27 Sep. 2017.