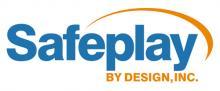 Safeplay by Design is a company focused on safe play spaces through playground designs and improvement plans, construction management for parks and similar projects, safety inspections for playgrounds and sports fields, impact testing, safety trainings and inspection programs, and playground surface safety scanning. They also provide ADA compliance inspections and expert witness testimony.
David Spease, a landscape architect, contractor, and playground safety inspector, launched Safeplay by Design in July of 2004.1 With a degree in landscape architecture and three decades of experience with the City of Sacramento, California in recreation design, construction, safety, and ADA compliance, David refocused his construction company, originally called Spease Construction, to focus on safety audits and inspections, playground improvement plan review services, playground designs, inspection programs, and safety trainings.
An area of relatively new concern has been the playground surface safety in newly constructed play areas. Safeplay by Design scans sand and loose fill surfacing of new and established playgrounds to locate and remove such metal objects as nails, needles, and blades.2
Based in Elk Grove, California, Safeplay by Design primarily covers California and the West Coast where they are dedicated to play safety. Recognizing that "risk taking is a major part of a child's development" and how they learn, Safeplay by Design seeks to "minimize hazards so that the children can enjoy the risks."3
1. Spease, David. Personal Correspondence to Playground Professionals. 11 Dec. 2012.
2. "Safeplay by Design, Inc." Qualified Playground Contractors – California. < http://www.playground-contractors.org/index.php?option=com_sobi2&sobi2Task=sobi2Details&catid=34&sobi2Id=390&Itemid=33 > 11 Dec. 2012.
3. "Welcome to Safeplay by Design." Safeplay by Design, Inc. < http://www.spease.com > 11 Dec. 2012.