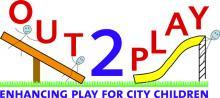 Out2Play is a nonprofit organization dedicated to providing safe, welcoming play spaces for every elementary school in the five boroughs of New York City that needs one. Andrea Wenner saw the need when in 2001 she noticed that the elementary school near her apartment did not have a playground. Four years later as a student at Columbia Business School, Andrea created a business plan for an assignment to provide playgrounds to schools. Her professor suggested she follow through with the plan and assisted in securing funding for her first playground.1
At that time there were about 700 elementary schools in New York City with about half of them without playgrounds.2 Of the 700, 160 schools were identified as high-need neighborhoods3 due to the typical family income being less than 2/3 of the city-wide average.4 These schools became Out2Play's first priority.
As Executive Director, Andrea implements an eight step process that "allows us to get these projects done in a cost- and time-efficient manner." Working with as many as 40 projects in a year, this includes collaboration with government officials; fund raising with city and state officials, corporations, foundations, and individual donors; designing with principals, parents, teachers and students; and bundling projects together for professional services with architects and contractors. The Out2Play program was awarded the 2010 Best Program of the Year Award by the New York Enterprise Report.5
While the process that Out2Play employs is the same, the designs are unique to the needs of each school and their students. Play spaces may include slides, hopscotch games, chess tables, jungle gyms, trees and planting areas, track, double-dutch zones, or basketball courts.6 Students, teachers, parents, and principals gather for "Design Days" where playground ideas are gathered and implemented.
In 2008, Andrea was joined by Sara Gilbert as Program Administrator. Sara is fluent in Spanish and understands multicultural needs. She works with the schools, students, budgets, and construction timelines.7
By November of 2010, Out2Play had installed 120 playgrounds affecting 90,000 children throughout New York City with many more in progress.8
1. "Real American Heroes: Helping Kids Be More Active, Andrea Wenner." Shape. November 2010. < http://www.out2play.org/wp-content/uploads/2009/03/11-2010-Shape.pdf > 30 Sep. 2011.
2. Spitz, Rebecca. "NYer of the Week: Manhattanite Builds Play Spaces for School Kids." NY1.com. April 23, 2010. < http://www.ny1.com/content/117483/nyer-of-the-week--manhattanite-builds-play-spaces-for-school-kids > 30 Sep. 2011.
3. "Overview." Out2Play. < http://www.out2play.org/about-us > 30 Sep. 2011.
4. "History." Out2Play. < http://www.out2play.org/about-us/history > 30 Sep. 2011.
5. "The NY Report 2010 Small Business Award Winners: Best Program of the Year Awards, Nonprofit – Out2Play." The New York Enterprise Report. < http://www.out2play.org/wp-content/uploads/2009/03/NYEnterpriseReport_11.1.10.pdf > 30 Sep. 2011.
6. Op.cit., "History."
7. "Staff." Out2Play. < http://www.out2play.org/about-us/staff > 30 Sep. 2011.
8. Op. cit., "Real American Heroes: Helping Kids Be More Active, Andrea Wenner."