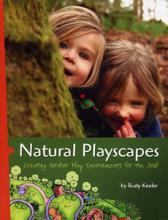 Rusty Keeler's Natural Playscapes, Creating Outdoor Play Environments for the Soul, published in 2008 by Exchange Press,is an explanation of and a workbook for creating children's outdoor play areas. These natural playscapes utilize "art, hills, pathways, trees, herbs, open areas, sand, water, music" so that "children will find places to run, climb, dig, pretend, and hide, with opportunities to bellow or be silent."1 Believing the children need "a variety of rich, stimulating experiences and environments that support a wide range of play," Rusty prefers the idea of a "landscape for play" or a "playscape."2
As a conceptual industrial designer for KOMPAN living in The Netherlands, Rusty was impressed by the art and nature elements that he found in European children's play areas, areas shaped by the talents of the communities living around the play environment. For instance, a play space in a neighborhood of carpenters would have a wood theme in the play structures which were then surrounded by natural elements and art features with which to climb on, touch, and play.
Rusty began building similar playscapes through his business Planet Earth Playscapes based in upstate New York. In Part I of his book, Natural Playscapes, he introduces these key concepts through a discussion of natural play elements, possible playscape designs, and the plans, pictures, and experiences of finished playscapes. In the process he explores using children in the designing process, utilizing local cultures for design direction, involving local artists and materials, and gathering the community to implement the plans.
Acknowledging that children are both explorers and scientists, Rusty quotes Buckminster Fuller, the architect of the geodesic dome and a scientist, who said, "Playgrounds should be renamed 'research environments' because that is what children are doing so vigorously. They are finding out how the universe works."3 In playscapes this exploring is heightened through sensory details, such as the textures of materials, the smells of different plants, the sounds of outside instruments or chimes, the tastes of garden treats, and the colors and patterns of nature. Rusty believes that children "play, grow, and feel the world around them intensely" and that "their outdoor space should be a swirl of spirited delights and playful discovery."4
The "power of nature to teach and inspire"5 is accomplished through such design features as hills, plants and gardens, a variety of pathways, water play, artwork, stages for performing, hideouts and open areas, sand creating, digging options, and obvious and hidden sound makers. Two nature-based preschool programs are featured in Natural Playscapes, as well as numerous master plan designs from around the United States that exemplify these features.
Believing that each playscape should be a "microcosm of your community's landscape," these master plans include a variety of features such as meadows, wind elements, tribal cultures, sound gardens, and seasonal considerations. In each playscape he maintains there needs to be "spaces for wild physical play, quiet social areas, sand and water construction zones, secret paths, sound elements, shady areas, sunny areas, gardens, and sculpture"6
Through photographs and design discussions, seven completed playscapes are featured for infants through preschoolers. Some of the design details highlighted in Natural Playscapes include using different pathway shapes and materials to create specific moods and speeds of play. The pathways can also incorporate the culture of the community, for example, the Cherokee Tribal Childcare Center utilized pathways in the shape of Cherokee language syllabary symbols.
Another design feature encouraged is "loose parts" which "add the jazz to any playscape."7 This includes the naturally occurring loose parts from plants such as flowers, seeds, fruit, or fluff as well as toys, tools, wind toys, and building materials. Plant hedges are also utilized for effectively dividing play areas and replacing less inspiring chain link fencing.
The community built construction process is explored in Natural Playscapes through the first hand experiences of two childcare center projects and the Living Willow Hut project at the Syracuse University Education and Childcare Center. The latter illustrates the process of transplanting willows to create play space shapes that grow into living, shady structures.
Including local resources in the book was illustrated through Rusty's experiences in creating playscapes for abandoned children in China, and the process for including children in the design process was extensively illustrated in the experience of the Syracuse University Learning and Childcare Center.
In Natural Playscapes, Part 2 is the workbook section which "is all about helping you focus your ideas with information and resources to help you roll up your sleeves, write down your dreams, and start planning your natural playscape."8 In the workbook section are pages to facilitate brainstorming, assessing the current play area, gathering ideas of the area's natural features, enlisting people resources, and identifying local materials to incorporate into the design.
In the extensive resource section, support is offered through questions and answers sections; resource listings for plants, organizations, and books; advocating guidelines; and several hands-on suggestions for designing. For example, included in the "5 Nearly Free Do-It-Yourself Playscape Projects" are instructions for creating a living willow hut, sunflower house, or a meadow maze.9
Through both inspiring natural playscape designs and guiding the implementation process, Natural Playscapes furthers the movement to reach childhood development needs through the outdoor play spaces. As expressed by Joyce Trigger, director of the Shady Oak Christian School in Richmond, Texas, "It is up to those of us who understand their ever-present needs to provide experiences that will not rush them through childhood, but rather will enrich and enliven this period that is so fleeting and often under-valued."10
1. Keeler, Rusty. Natural Playscapes, Creating Outdoor Play Environments for the Soul. , Redmond, WA: Exchange Press, 2008. p. 15.
2. Op.cit., p. 16.
3. Op.cit., p. 33.
4. Op.cit., p. 52.
5. Op.cit., p. 55.
6. Op.cit., p. 95.
7. Op.cit., p. 109.
8. Op.cit., p. 239.
9. Op.cit., pp. 265-275.
10. Op.cit., p. 156.