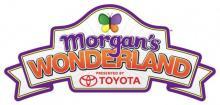 Morgan's Wonderland is an ultra-accessible theme park for guests of all ages and of all physical and cognitive abilities. Located in the northeast part of San Antonio, Texas, it is a place of "smiles and laughter" where "the common element of play creates an atmosphere of inclusion for those with and without disabilities, encouraging and allowing everyone to gain a greater understanding of one another."1
The 25-acre, completely wheelchair-accessible park was built in what once was a limestone quarry. Attractions include the Sensory Village, a cluster of storefronts with interactive elements designed to stimulate all the senses; the Wonderland Express train ride and depot; a 500-seat amphitheater; an 8-acre catch-and-release fishing lake and The Wharf aquatic activities area; internationally-themed rest areas along the Walk and Roll Path paralleling the lake shore; a colorful carousel; the Butterfly and Pirate Island playgrounds; the Off-Road Adventure ride featuring all-terrain vehicles; the Music Garden filled with percussion instruments; the Sand Circle play area; the WaterWorks splashy play area; and the Whirling Wonder Ferris wheel.2
All of this began when San Antonio native and businessman Gordon Hartman observed that his daughter, Morgan, did not quite fit in with other children playing in a swimming pool while the Hartmans were on a family vacation. The children didn't know each other and didn't know how to include Morgan, who was born with cognitive delays and physical disabilities. Gordon decided then and there to create "a way for all kinds, of all abilities, to learn to play together."3
In 2005, Gordon sold his homebuilding company, Gordon Hartman Homes, and established The Gordon Hartman Family Foundation dedicated to helping children and adults with special needs. He and his wife, Maggie, envisioned a truly inclusive theme park, so early in 2007, he gathered 400 parents of special-needs children, educators, caregivers and medical experts to brainstorm what the theme park could include for children and families of all abilities.4
As the planning progressed, Gordon established non-profit Sports Outdoor and Recreation (SOAR) to raise the necessary funds and to manage the resulting park. He and Maggie got things started with a gift of $1 million, and the City of San Antonio, the State of Texas, charitable foundations, corporations, and individuals also decided to participate. Construction plans went through extensive updating with about 60 revisions right up until groundbreaking in the spring of 2009. A year later in April 2010, the $34 million theme park held its grand opening and attracted international attention as Morgan's Wonderland, named after the Hartmans' daughter. Since its grand opening, Morgan's Wonderland has welcomed more than 1 million guests from all 50 states and 65 countries through park visitation and participation in special events. Gordon's realization that families with special-needs members have great demands on both their financial and emotional resources led to his commitment to admit anyone with a special need free of charge.
At the time of the park's opening in 2010, Gordon also opened the STAR Soccer Complex, a 75-acre facility adjacent to the park for practices, tournaments, and league play. He also launched Soccer for a Cause, a grassroots effort to establish professional soccer in San Antonio that led to the creation of the San Antonio Scorpions. The team began competition in spring 2012, moved into their new home, Toyota Field, a year later and won the 2014 North American Soccer League championship. (In addition to sponsoring the soccer stadium, Toyota also made the generous decision to become a presenting sponsor of Morgan's Wonderland.) Gordon created a business model unique to professional sports utilizing professional soccer to generate financial support for Morgan's Wonderland and the special-needs community.
In December 2015, Gordon sold Toyota Field to the City of San Antonio and Bexar County. All proceeds from the sale went directly to Morgan's Wonderland, which will make it possible for it to pursue its mission of inclusion far into the future. Thus, Soccer for a Cause achieved both of its objectives: bringing exciting professional soccer to San Antonio and generating financial support for non-profit Morgan's Wonderland.
Another passion that Gordon and Maggie share is The Academy at Morgan's Wonderland, a school for students with special needs that the Hartmans opened in August 2011. It is a unique learning environment that helps students from ages 12 to 24 to reach their maximum individual potential.
Gordon also has played a key role in partnering with CRIT (Children's Rehabilitation Institute of TeletónUSA), a $17 million clinic next to Morgan's Wonderland serving children with neurological, muscular, and skeletal challenges. Modeled after successful CRITs in Mexico, Central and South America, CRIT USA is the first CRIT rehabilitation center built in the United States. The park plays an important role in the healing process by offering families respite from their treatment regimen and a chance to make memories together in a fun atmosphere.
Always looking to the future, Gordon is constructing an all-inclusive splash park, Morgan's Inspiration Island, scheduled to open in the spring of 2017. Like Morgan's Wonderland, the new park will be ultra-accessible and feature tropically-themed aquatic elements that everyone can enjoy.
Because of his generosity and vision, Gordon has earned extensive local, regional, and national recognition including an honorary Doctorate of Social Work from Our Lady of the Lake University in San Antonio. Gordon's guiding motto is: "Together, we ARE making a difference!"5
1. "Our Mission & Vision." Morgan's Wonderland. < http://www.morganswonderland.com/about-us/our-mission-vision > 17 Oct. 2012.
2. Information received from Bob McCullough, Morgan's Wonderland, via email. 18 Oct. 2016.
3. Bockelman, Christine. "An Amusement Park for Kids of All Abilities." Family Circle. October 2012. < http://www.familycircle.com/family-fun/volunteering/amusement-park-for-kids-of-all-abilities/ > 17 Oct. 2012.
4. "The Gordon Hartman Family Foundation." Morgan's Wonderland. < http://www.morganswonderland.com/about-us/founder > 17 Oct. 2012.
5. Information received from Bob McCullough, Morgan's Wonderland via email. 18 Oct. 2016.