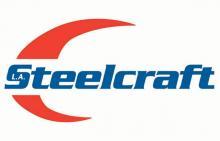 L.A. Steelcraft was a small manufacturer of swingsets and slides when Stanley A. Germain came out of early retirement to purchase the company in 1948. Stanley had been a Ford mechanic in the 1920s before farming and succeeding in the liquid fertilizer business. For the next 25 years he expanded his new business to manufacturing products for schools, industry, parks, and playgrounds.1
With the adoption of the U.S. Consumer Product Safety Commission (CPSC) safety standards and the ASTM International (ASTM) F1487-93 standards in the 1990s, L.A. Steelcraft modified all their products to be in compliance.
Today L.A. Steelcraft Products Inc. is a private company led by James Holt. They manufacture outdoor tables, benches, bleachers, bike and scooter racks, flagpoles, site amenities, obstacle courses, and fitness equipment. They also manufacture equipment and accessories for tennis, volleyball, badminton, baseball, basketball, football, and soccer.
The playground equipment they manufacture includes swings, slides, climbers, spring riders, funball, tetherball, pedestal sandboxes, and curb borders.2
Based in Pasadena, California, L.A. Steelcraft Products Inc. has 200 representatives across the United States.