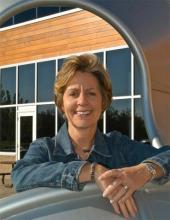 Barb King graduated from Iowa State University in 1968 with a degree in Food Science. She was known for her work in creating sustainable, healthy lifestyles not only for children and their families but for the community. Barb King was a co-founder and a major influence in the growth of Landscape Structures until her death in 2008.1
She and her husband, Steve King, started Landscape Structures Inc. in 1971. The company was founded on the idea of "continuous play," connecting various play components together.2  From a home-based operation, Landscape Structures grew to more than 300 employees and 200 worldwide representatives. Barb became president and led the marketing and sales departments as well as the manufacturing operation of the company on a day-to-day basis. She was also an avid conservationist who encouraged the company to consume less energy and to incorporate more recycled content.3
Barb joined the National Association of Women Business Owners (NAWBO) in 1986 and served as a board member from 1993 to 1996 and as president from 1997 to 1999. She also served as a director on many other boards such as the Minnesota Safety Council, Volunteers of America and the Minneapolis Community College. Barb served as a trustee of Northwestern Mutual Life Insurance and also as a trustee on the board of directors for the National Recreation and Park Association (NRPA) Board of Trustees.
In 1992, Barb received the Athena Award from the Delano Chamber of Commerce and General Motors for outstanding businesswoman of the year. In that same year, Barb and Steve were recognized by Ernst and Young, Gray, Plant and Moody Law Firm and Inc. Magazine as Minnesota's Entrepreneur(s) of the Year. Then in 1994, she was selected as Small Business Person of the Year for the six-state Midwestern region by the Small Business Administration.
Barb was awarded from her alma mater, Iowa State University, the 1999 Professional Achievement Award in Family and Consumer Sciences. In 2000, she was selected by the Minnesota chapter of the National Association of Business Owners as Woman Business Owner of the Year. She was also inducted into the American Society of Landscape Architects as an honorary member in 2005.
A playground named Barb King Inspiration Park was dedicated in her honor in Delano, Minnesota, in October 2010. The one-of-a-kind equipment was donated by Landscape Structures. Most of the materials for the unique play structures were made of recycled material content.4
The Säjai® Foundation, a non-profit organization, was founded in 2006 by Barb King. The Foundation was created in an effort to combat childhood obesity by developing programs that encourage children to increase activity and make good food choices. Barb was on the Board of Directors and through this foundation, she not only was the catalyst in educating children to adopt a healthier lifestyle, she also was able to produce research that will help schools and communities to promote healthier lives. One of these programs is called Wise Kids®, which encourages children to be active outdoors and teaches healthy living in an after school program.5
1. "Our History" Landscape Structures Inc. < http://www.playlsi.com/Learn-About-Us/Our-History/Pages/Our-History.aspx > 13 Aug. 2010.
2. Adams, John S. "Playground Pioneer." Today's Playground, Jan. 2003:16.
3. St. Anthony, Neal. "Landscape Leader 'just one of us.'" Star Tribune, 11 Mar. 2008. < www.startribune.com/business/ > 13 Aug. 2010.
4. "Delano Playground Dedicated To Company's Cofounder." WCCO.com. < http://wcco.com/local/delano.barb.king.2.1954166.html > 9 Oct. 2010.
5. "Executive Summary." Säjai® Foundation. < http://sajaifoundation.org/executivesummary.html > 13 Aug. 2010.