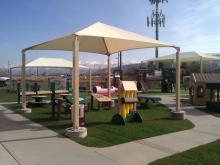 Dr. Eric Strickland, founder of Grounds For Play, Inc., first began consulting, designing, and building playground projects when he was a doctoral student under Dr. Joe Frost at the University of Texas in Austin, Texas. In 1979, he became an assistant professor of Elementary and Early Childhood Education at the University of Texas at Arlington and continued to consult with churches and child care centers on their playgrounds. Eventually the consulting and designing grew to also include building the playgrounds.
Eric's education-based approach to designing play spaces and his turn-key service prospered his business until he officially formed Grounds For Play in 1983. While he continued to teach full time, his "side" business grew beyond what he could handle on weekends, and he began hiring employees to meet the demands.
In 1985, Dr. Jim Dempsey, a fellow student under Dr. Frost, contacted Eric about joining forces in the playground industry. As equal partners in Grounds For Play, Jim took on full time management while Eric continued to teach. Together they built Grounds For Play to fill the gap between "the distributor-based model of most playground companies and the design-only model of architectural firms."1
Over the next seven years, Grounds For Play introduced Fiberglass Reinforced Plastic (FRP) posts and TREX components made from a composite of recycled plastic and recycled or recovered wood fibers in their designs. They had also completed the Pentagon Child Care Center and weathered a difficult period when a hired "expert" managed the new company.
Eric resigned as an associate professor in 1992 and began the full-time leadership at the Grounds For Play. At the National Association for the Education of Young Children (NAEYC) conference in 1995, Grounds For Play impressed Patricia Johnson, the Facilities Specialist of the US Army Europe's Children and Youth Services Program. This began a long term association of redesigning and designing, delivering, and installing playgrounds in Europe. Eventually this meant building over 150 playgrounds for the US Army.
This success led to negotiating prices with their plastic components supplier, Superior International Industries (Sii). Instead of cutting a deal on supplies, Eric and Jim ended up selling 60% of Grounds For Play to Sii who had acquired other profitable playground companies. A year later, Sii sold 80% of their playground companies, including Grounds For Play, to a venture capital company. In 2005, another sale of the companies occurred but through it all Grounds For Play has been able to remain intact as a "niche business."2
With a dozen design consultants throughout the United States, a project management team in Europe, and nearly fifty employees at their headquarters in Mansfield, Texas, Grounds For Play continues to design commercial play environments based on their educational design philosophies.
After 27 years of business, Grounds For Play has never been litigated against for an injury or death on the over 10,000 playgrounds they have designed and installed. Part of the reason for their perfect safety record is a conservative interpretation of the Handbook for Public Playground Safety produced by the U.S. Consumer Product Safety Commission concerning "composite" climbers, which are structures that combine elevated decks, bridges, climbers, and slides. Grounds For Play designs a 6' "halo" space around the composite climber which is free of any metal rungs or other structural components.3
Besides a passion for safety, Grounds For Play also has a passion for effective designs that are age appropriate for infants and toddlers, preschoolers, school aged children, and special needs children. Using .22 inch thick FRP posts in their structural plastic systems (SPS) and RS20 Flocoat Steel Tubing for their metal components, TREX for decks, ramps, and bridges, and 3/16" thick rotationally-molded one piece slides and roofs, Grounds For Play offers dramatic play components, outdoor classrooms, construction play, panels, climbers, slides, swings, music, and fitness elements. They also have site amenities, storage options, shade structures, safety surfacing, and borders.
Grounds For Play is a division of Superior Recreational Products.
After 31 years with Grounds For Play, Eric began in 2014 to work as an independent consultant in playground design and safety issues.