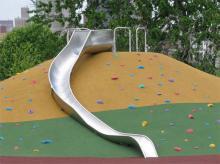 Rick Henke founded the Goric Marketing Group USA in 1994 to create playgrounds of "natural beauty, structural integrity, and intergenerational fun."1 With his background in engineering and his involvement in developing playground safety standards in Canada, Rick was a creator of integrated playscapes, accessible play equipment for children of all abilities.
Prior to Goric, in 1975, Rick had co-founded and managed Children's Playgrounds, Inc. with his brother Horst Henke. Together they manufactured wooden playground equipment in Toronto, Canada. From that experience Rick founded Goric with a solid understanding of the playground industry, connections within the playground manufacturing industry, and knowledge of playground safety standards in both America and Canada.
In establishing Goric in Ashland, Massachusetts, Rick introduced cable net play structures to the U.S. playground market. Now, with a staff trained in the Certified Playground Safety Inspector (CPSI) program and a network of sales consultants, they design, market, and install play elements and playgrounds for public spaces created to improve children's abilities to grow freely and develop physically, emotionally, socially, and intellectually.2
Goric imports playground equipment and locally manufactures specialty items, such as custom-designed slides for indoor and outdoor play spaces. Their product line includes PlayPoints, sensory and sound play elements, sand and water play, cable net structures, site furnishings, and protective rubber surfacing.3
PlayPoints are outdoor play elements that allow children to experience gravity and centrifugal forces as they play, while the cable net structures promote upper body strength, coordination, and group cooperation as the children navigate suspended nets.
The sand and water play elements include water pumps, wheels, and gates to experience water flow, water characteristics, and mud. Their sensory and sound play elements allow children and adults to explore not only sight and sound sensations, but also textures and movements.
Goric's protective rubber surfacing includes surfacing tiles, poured in place surfacing, pavers, curbing, and sports tiles.
They are members of the National Recreation and Park Association (NRPA), the American Society of Landscape Architects (ASLA), and the Boston Landscape Architect Society.