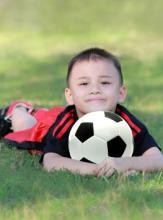 Good Sports, a nonprofit organization, was founded in 2003 in Boston, Massachusetts. With the sponsorship support of Spalding, Good Sports began by supplying 500 basketballs to 2,000 disadvantaged children.1 Thus began their mission of encouraging healthy, active lifestyles in disadvantaged youths, aged 5-18 years old, through the distribution of sports equipment, footwear, and apparel to community sports organizations and health centers.2
Noting the decline in urban team sports and the rise in childhood obesity, Good Sports sought to remove the financial barriers to community sports programs by supplying baseball, football, basketball, volleyball, hockey, track and field, and soccer equipment as well as uniforms and footwear. They are motivated by the statistics that 57% of those who play team sports are less likely to drop out of school, 49% are less likely to take drugs, and 37% are less likely to become teen parents.3
In 2004, Melissa T. Harper and Christy Keswick became the founding staff of Good Sports. They along with a founding board expanded their reach to include nationwide efforts. Now a national organization, Good Sports has supported organizations across 45 states reaching over 350,000 kids.4
Good Sport's growth has been realized through partnerships with sporting goods manufacturers, professional sports teams and their foundations, and with national youth support programs, such as the YMCA, the Boys & Girls Clubs of America, and the Pop Warner Little Scholars. The National Recreation Foundation has also partnered with Good Sports by assisting them in developing an expansion-based business plan.
The professional sports teams support Good Sports with financial contributions through their respective foundations as well as with the personal appearances of many of their star players. For example, in 2009, when the Chicago Blackhawks donated $10,000 worth of equipment to the Nettelhorst School, their forwards, Tomas Kopecky and John Madden, were at the school to celebrate the beginning of Nettelhorst's sports and recreation program.5
In 2010, Melissa received the Robert W. Crawford Achievement Prize from the National Recreation Foundation for her service to disadvantaged youth through Good Sports.
1. "Melissa T. Harper." National Recreation Foundation. 13 April 2011.
2. "What We Do!" Good Sports. 13 April 2011.
3. McHale, James. "Patterns of Personal and Social Adjustment Among Sport-Involved and Non Involved Urban Middle School Children." Sociology of Sport Journal. June 2005.
4. Keswick, Christy. Personal correspondence to Playground Professionals. 18 April 2012.
5. "Chicago Blackhawks Team Up with Good Sports to Donate $10,000 worth of Equipment." The Latest From Good Sports! Newsletter, November 2009. 13 April 2011.