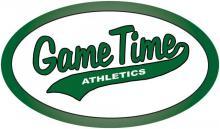 GameTime Athletics provides equipment and supplies for the sports and sport fields of recreational, school, and collegiate programs. Based in Weston, Missouri, they offer both sports facility equipment and supplies and sports field construction and maintenance.
Blake Siler founded GameTime Turf Care in 2001 as a "field and turf" company.1  As such they offered and continue to offer field construction, renovation, and management; fertilization and chemical treatment; seeding, irrigation and drainage solutions; core and aeration; laser grading; and professional field striping services for all game fields.2
The field marking supplies that they provide include aerosol marking paint in such colors as  black, white, fluorescent orange, maroon, navy, old gold, and purple.3 They also have goal post paint and primer, bulk field marking paint, turf colorant, and turf paint accessories. 
In 2004, Blake expanded the company, now known as GameTime Athletics, to include facility equipment and sports equipment for soccer, football, baseball, softball, and basketball.4 Besides offering goal posts, ball storage systems, cones, flags, and nets, they also provide amenities such as benches and bleachers.5
1. Hendrix, Beau. Personal corrrespondence to Playground Professionals. 17 April 2012.
2. "Why Shop GameTime." GameTime Athletics. < http://www.gametimeathletics.com/store/pg/30-Why-Shop-Game-Time.aspx > 17 April 2012.
3. "Turf Paint." GameTime Athletics. < http://www.gametimeathletics.com/turf-paint > 17 April 2012.
4. Op.cit., Hendrix.
5. Op.cit., "Why Shop GameTime."