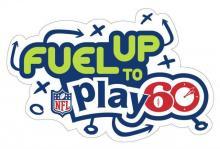 Fuel Up to Play 60 is an initiative to empower youths to take action to improve nutrition and physical activity at their schools, which will improve their own health. The youth-led program is a joint venture of National Dairy Council (NDC) and the National Football League (NFL). Fuel Up to Play 60 is designed to address increasing childhood obesity, and recognizes that, "well-nourished kids tend to be better students, and physical activity supports learning."1
Because research shows that most American children are "overfed and undernourished," the focus of Fuel Up to Play 60 is to encourage consumption of nutrient-rich foods, such as low or fat-free dairy products, fruits, vegetables, and whole grains, as recommended in the 2005 Dietary Guidelines for Americans issued by the Department of Health and Human Services and the U.S. Department of Agriculture. It also draws on the existing NFL Play 60: the NFL Movement for an Active Generation program, which encourages children and families to "get up and play an hour a day."2
Launched on October 15, 2009 for the 2009-2010 school year, the initiative is geared to both individual youths and schools. Students are encouraged to log on to the Fuel Up to Play 60 website and track their eating and physical activities to earn points for prizes. The schools receive a Fuel Up to Play 60 School Starter Kit, which includes promotional materials to get them started.
On February 9, 2010 when First Lady Michelle Obama announced the Let's Move! Initiative, Fuel Up to Play 60 joined in support of her program, because they "share the ambitious and attainable goals outlined in the First Lady's childhood obesity platform."3 The Fuel Up to Play 60 program also supports the U.S. Department of Agriculture (USDA) HealthierUS School Challenge and the President's Council on Fitness, Sports and Nutrition's Presidential Active Lifestyle Award (PALA+).
The Six Steps of the program highlighted on the Fuel Up to Play 60 website are: Join the League and Suit up, Build Teams and Draft Players, Kickoff!, Survey the Field, Game Time!, and Light Up the Scoreboard! These steps involve gathering a team of youth leaders and interested adults, organizing an event to start the campaign, completing the School Wellness Investigation, forming customized goals for local school wellness needs, implementing the resulting activities, and sharing success stories, videos, and images on the Community Page at the Fuel Up to Play 60 website.
Two of the resources offered by Fuel Up to Play 60 are The Playbook and The Dashboard. The Playbook includes the ideas for events and school programs, such as a Back-to-School Family Fitness Night, a milk mustache booth, a flag football after school program, walking clubs, and taste-testing foods for lunch menus. The Dashboard is a customized online site to track activities, apply for funding, communicate with others, and collect digital rewards. Other resources include training camps and videos, a supporters page, and a news and events center.4
As the youth lead, the schools are changing their environment to include healthier menus and more physical activity options. Besides increased health, the students are rewarded with tangible rewards, such as a trip to the Super Bowl, participation in a Student Ambassador summit, or NFL player appearances.
In order to facilitate funding for school programs, Fuel Up to Play 60 launched the GENYOUth Foundation in February 2011.5 The Foundation supports all school programs effective in combating childhood obesity and gathers support from health, business, and government entities.
1. "Fuel Up to Play 60 Guidebook." Fuel Up to Play 60. < http://school.fueluptoplay60.com/documents/FUTP60_Guidebook.pdf > 14 Feb. 2012.
2. "NFL, National Dairy Council Take Aim at Childhood Obesity with Fuel Up to Play 60." Fuel Up to Play 60. < http://www.fueluptoplay60mediaresources.com/ > 14 Feb. 2012.
3. "Fuel Up to Play 60 Delivers on First Lady's Platform to Combat Childhood Obesity." Fuel Up to Play 60. < http://www.fueluptoplay60mediaresources.com/ > 14 Feb. 2012.
4. Op.cit., "Fuel Up to Play 60 Guidebook."
5. "Fuel Up to Play 60 Helps Students in Nearly Three Fourths of U.S. School Districts Improve Nutrition and Physical Activity." The Wall Street Journal Market Watch. < http://www.marketwatch.com/story/fuel-up-to-play-60-helps-students-in-nearly-three-fourths-of-us-school-districts-improve-nutrition-and-physical-activity-2012-02-13 > 14 Feb. 2012.