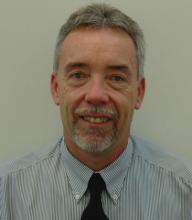 Paul Edwardson has had a long career in the parks and recreation field and has been especially concerned with playground safety and maintenance.
Paul graduated from the University of Minnesota in 1973 with Bachelor of Science degree in Education, and for three years he was a public school music teacher in Eden Prairie, Minnesota. When his interests led him in another direction, he left teaching and returned to school to further his education in park and forestry operations.
Paul began work as an entry level park maintenance crew person with the Bloomington Minnesota Park Department in 1981. In 1987, he was appointed Park Foreman, and in 1990, he was appointed to his current position of Assistant Maintenance Superintendent in charge of park maintenance. In 2001, Paul, along with his continuing duties for the park department, was also appointed to the position of City Forester.
In 1995, while attending the National Park Planning and Maintenance School in Colorado Springs, Paul became aware of the National Playground Safety Institute (NPSI) program of the National Recreation and Park Association (NRPA). In 1996, Paul attended a NPSI institute and became a Certified Playground Safety Inspector (CPSI). Although a playground safety program had been put in place years earlier, it was after attending the NPSI course that the Bloomington Minnesota Park Department began the task of putting into operation a comprehensive playground safety inspection and maintenance program.
In 2000, Paul became an instructor for the National Playground Safety Institute. He has been a member of the NPSI Executive Board during his tenure as an instructor. Paul has also taught for the International Playground Safety Institute (IPSI) in Singapore.
From 2004 through 2007 Paul was a Regent and Instructor for The Park and Recreation Maintenance and Management School conducted by the National Recreation and Park Association and the Continuing and Professional Education School at North Carolina State University.
Paul maintains memberships in the National Recreation and Park Association, the Minnesota Park and Recreation Association, the Minnesota Sports Turf and Park Supervisor's Association, and the American Public Works Association. He also serves on the ASTM International (ASTM) F15 Committee on Consumer Products and F08 Committee on Sports Equipment and Facilities. Paul is also a past President of the Minnesota Park Supervisor's Association.
In addition to playground safety, Paul has been trained as an instructor for the NRPA and the U.S. Access Board's program concerning the ADA/ABA Accessibility Guidelines for public playgrounds.
Paul continues to work as the Assistant Maintenance Superintendent and City Forester for Bloomington, Minnesota, and also conducts customized training for various agencies throughout the metropolitan Minneapolis/ St. Paul area. He also teaches park maintenance and forestry-related classes for Hennepin Technical College in Eden Prairie, Minnesota. He believes we should never stop trying to learn. Paul feels Will Durant may have said it best when summing up what education and learning is. He said "Education is a progressive discovery of our Ignorance."1
1. Edwardson, Paul. Personal correspondence to Playground Professionals. 15 Aug. 2011.