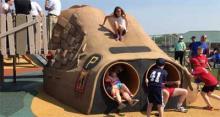 Cre8Play started in Minneapolis in 2005, when Todd Lehman sought a creative outlet for designing commercial playgrounds. After 20 years of working in the playground industry, including having consulted for playground manufacturers and co-chairing a Rep Advisory Board for a major playground manufacturer, he became frustrated with the limitations of the traditional post and deck designs.
Todd was joined by Nick Demetrakas, who brought his 20+ years of experience to Cre8Play, including being Marketing Manager for one of the largest playground manufacturers. Currently, Nick is on two ASTM International committees:  F08 Sports Equipment and Facilitates and F15 Consumer Products as well as a board member of IPEMA's Surfacing Validation Program.
Danny Byrd, known as "The Specialist," was added to the team, with his 36 years of experience and 6 patents in the playground industry. Danny has designed and built playgrounds for restaurants, museums, malls, and theme parks, including the Tweetsie Railroad, Busch Gardens, and Paramount Parks. He also has served on ASTM committees:  F1487 Commercial Play Equipment, F1536 Soft Contained Play Equipment, and Standards for Play Equipment for children under two years of age.
Starting with the Nature Themed Products, Cre8Play has grown to include Cre8Spray Water Features, 3D Play Sculptures, and Site Amenities including Cre8Shade. They also readily do custom projects, murals, and offer consulting services. Recently, they were awarded the Grand Prize for creativity and excellence in a Commercial Exterior in the Decorative Concrete Competition based in the Twin Cities in Minnesota. They were recognized for "careful craftsmanship and design excellence, especially in the attention to detail from railings to rock walls."1
Cre8Play's Nature Themed products include stratified realistic rock climbers, "spider" webs, swaying cat tails, boulders, tree swings, forts, rock or log benches, and outdoor shelters. In order to reduce their carbon footprint, these products are made with recycled and recyclable materials, such as glass fiber reinforced concrete (GFRC), concrete, steel, plastics, composite wood, recycled rubber, and sculpting epoxy coatings. All of these materials make a "natural effect" with their unique 3D Themed Texture and critter details. Fitting into these nature themed play structures are their 3D Play Sculptures with animals, such as hippos and crocodiles, to climb and balance. As for larger than life-size there is the gigantic soccer ball, a clubhouse igloo, and a mosquito to climb.
Their projects continue with these whimsical themes:  tug boats, airports, sunken ships, tree forts, dragons, barns, and currently a 14 foot goose where the neck is a slide. They also work on many hybrid projects, where both special needs and able-bodied needs are met simultaneously.
Cre8Spray extends their creativity to spraygrounds and splashpads by using cause and effect technology to create spraying iguanas, logs, and fish among shipwrecks, rope bridges, and whales.
The site amenities that they offer range from the small trash recycle bin to the full picnic site enclosure complete with tree supports and beams with carved squirrels and peeking owls. Their branch railings, for instance, are made with realistically bent steel and covered with their signature "natural" finished texture. All half-log benches have a bark texture and the rock benches feel like stone even though they are all made of concrete.
In 2011, Cre8Play moved to a newly refurbished former industrial warehouse in New Hope, Minnesota, consolidating three locations into one. With the help of a grant from the Metropolitan Council's Livable Communities Act, the lead contamination of the warehouse was remediated and the property was transformed into an efficient and attractive workspace. What was once a polluted, unusable site has now been reclaimed benefitting the community as well as Cre8Play.2
Cre8Play offers an impressive repertoire of designs that encourage imagination and play all with "long-lasting durability and convincing realism."3 And as Todd says, "All the plastic and steel in the world have no value, if your playground doesn't meet the needs and appeal to the kids."4
1. "Swanky New Stuff." Cre8Play. < http://www.cre8play.com/#swanky-new-stuff > 12 July 2010.
2. "Cre8ive use of a polluted site." Metropolitan Council. < http://www.metrocouncil.org/newsletter/planning2012/Cre8playJan12.htm > 9 Feb. 2012.
3. "Products." Cre8Play. < http://www.cre8play.com/#products > 12 July 2010.
4. Cre8Play. < http://www.cre8play.com > 23 July 2010.