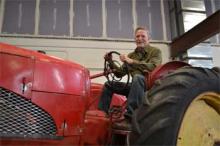 Danny Byrd has contributed over 37 years to designing and producing a variety of products including commercial furniture, themed exhibits for restaurants, museums, malls, and theme parks, and playground equipment. He holds several patents for his designs. His work in the playground industry also included serving on several ASTM International committees setting standards in play equipment for children under 2.
Danny began his career in 1974 as a shop foreman, working for Pentes Design in North Carolina. There, he fabricated themed displays for restaurants, museums, and mall exhibits. He also produced products for theme parks, including Tweetsie Railroad, Busch Gardens, and Paramount Parks.
In 1979, Danny opened his own business, Byrd Enterprise, which designed and built custom furniture for homes and businesses. He worked in the furniture industry for about ten years before returning to Pentes in 1989. 
He worked for Pentes Play Inc. as a design and production director, producing kits for soft contained play equipment, such as those found in many fast food restaurants. Here, Danny introduced AutoCAD and ERP software to Pentes' design and manufacturing process.
In 1998, Pentes Play was purchased by GameTime. Danny maintained his position with the company, which continued to produce soft contained play equipment. During this time, he received the US Patent award for his Rain Forest themed soft contained play equipment.
In February of 2000, GameTime relocated to Alabama, where Danny continued as director of design. He headed the design team for all new products, including residential and commercial playgrounds, consumer toys, and commercial skateboard ramps. Danny holds nine design patents and one utility patent with GameTime, and in 2005 he was awarded GameTime's President's Excellence Award.
Danny left GameTime in 2005, and spent ten years in the gaming industry, where he continued to develop his experience in design and managing operations.
In March of 2015, Danny Byrd, returned to the playground industry. He was hired by Cre8Play, a custom play designer and manufacturer, to lead the company in design innovation.1
1. Personal correspondence to Playground Professionals. 3 April 2015.