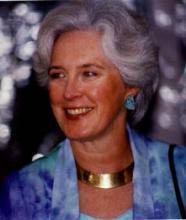 Elizabeth (Betsy) Caesar, president of Playcare, Inc., playground designer and playground safety expert, believes that all play and learning settings should be "safe, healthy and supportive of the growth process."1 She maintains that a good playground design is "a space where children can explore themselves and their world with as few rules and as little adult interventions as possible."2
Betsy attended Case Western Reserve University in Cleveland, Ohio in 1967, the first year it was a full university, but soon transferred to the University of the Arts in Philadelphia, Pennsylvania, where she graduated with a Bachelor of Science degree in Environmental Design in 1971. Over the next three years she worked for architects and landscape architects in Philadelphia and as a coordinator for a HUD Planning Project in Greys Ferry, Pennsylvania.
Beginning in 1975, Betsy shifted her emphasis to elementary education, playgrounds, and play safety. She began by being a kindergarten teacher and resource teacher at The Durham Child Development Center of the Philadelphia School District, while she attended the Antioch Graduate School in Philadelphia. She was also the president of Childhood Friends, Inc., a company that designed playgrounds, playground equipment, and museum exhibits, and did safety trainings. Betsy would head this company for a decade from 1975-1985.3
In 1977, Betsy earned her Masters of Elementary Education from Antioch and became an associate at Educational Futures, Inc., where she was an architect-in-residence and the National Project Coordinator for the Architects in Schools Program of the National Endowment for the Arts.
Leaving Childhood Friends in 1986, Betsy became a play equipment sales representative and safety consultant for General Recreation Inc. in Newtown Square, Pennsylvania. Eight years later in 1994, she left General Recreation to found and lead Playcare, Inc. based in Wawa, Pennsylvania.
Playcare designs play spaces and provides play safety audits and safety trainings for Philadelphia and the surrounding counties. They provide play designs that are "safe, sensory rich, stimulating, developmentally appropriate, curriculum-based, accessible, and cost effective," with the majority of their work involving day care and child care centers.4 While designing play spaces, Betsy honors children's "natural need to move and explore," which includes open space for free movement; climbing opportunities; sliding, swinging, spinning, and rocking equipment; space to create; and space to be quiet and alone.5 
Betsy's active involvement with the safety of playgrounds began in 1988 when she became a member of the ASTM International (ASTM) subcommittee F15.29 for the Standard Consumer Safety Performance Specification for Playground Equipment for Public Use.6 Five years later she became a member of the ASTM subcommittee F15-36 for Soft Contained Play Systems. She has also been a member of the ASTM F15.16-21 on Safety Standards for Juvenile Products and ASTM F963-96a on Safety Standards for Toys.
In 1995, Betsy became a Certified Playground Safety Inspector (CPSI) through the National Playground Safety Institute (NPSI) of the National Recreation and Park Association (NRPA). That same year she began conducting NPSI CPSI training sessions, a service she would continue for the next twelve years. Betsy also joined the Member Executive Committee and the Curriculum Committee of NPSI.
Two years later in 1997, Betsy founded and chaired the ASTM subcommittee F15-44 on Safety Standards for Play Equipment for Children Under Two. She would hold that position for the next ten years. In 2006, Betsy received the ASTM International Certificate of Appreciation.
Through Playcare, any design process begins with a safety inspection of the play site and existing playground structures and ends with a final safety audit and outline of a maintenance and inspection program. Safety audits and consultations are a significant part of Playcare's services.7 This is because Betsy believes that "the greatest single cause of playground injury is the lack of maintenance. A playground that is created but not maintained in a safe manner can be the cause of serious injury or even death" to children.8
Over the decades of designing play spaces, Betsy has designed over two hundred outdoor playgrounds and a dozen indoor play environments largely in Pennsylvania. She received the Good Design Award from the National Association of Landscape Architects for her work on Herron Park in Philadelphia, and Betsy's work to safely restore the Giant Slide at the Historic Smith Memorial Playground in Fairmount Park of Philadelphia,9 was awarded the Grand Jury Award from the Preservation Alliance for greater Philadelphia. She is also a volunteer on the Philadelphia Chapter of The American Institute of Architects' Community Design Collaborative.
Betsy has been involved with over seventy-five safety projects and has spoken at conferences, conducted workshops, published articles, and produced videos concerning playground safety. She has served on the advisory group of the Pennsylvania Academy of Pediatrics - Early Childhood Education Linkage System (ECELS), and in 1997 and in 2001 she was given their Award of Excellence.
1. "Curriculum Vitae." Personal correspondence to Playground Professionals from Betsy Caesar. 7 May 2012.
2. Caesar, Betsy. "Give Children a Place to Explore." Child Care Information Exchange. March 2001. < http://tachedaycare.com/Articles/Explore.pdf> 7 May 2012.
3. Op.cit., "Curriculum Vitae."
4. "Children's Playground Equipment." Playcare, Incorporated. < http://playcare-inc.com/ > 7 May 2012.
5. Op.cit., Caesar.
6. Op.cit., "Curriculum Vitae."
7. "Playground Safety Philadelphia." Playcare, Incorporated. < http://playcare-inc.com/playground-safety-philadelphia.html > 7 May 2012.
8. Op.cit., Caesar.
9. Anderson, Kelli. "Passing the Test of Time." Recreation Management. < http://www.recmanagement.com/200701fp01.php > 7 May 2012.