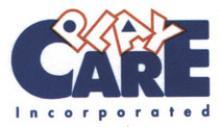 Playcare, Inc. designs play spaces, provides playground safety audits, and conducts playground safety trainings for Philadelphia, Pennsylvania and surrounding counties. They design play areas that are "safe, sensory rich, stimulating, developmentally appropriate, curriculum-based, accessible, and cost effective," with the majority of their work involving day care and child care centers.1 Playground safety audits are a significant part of Playcare's services.2
Betsy Caesar founded Playcare, Inc. in 1994 after twenty years of designing play spaces and interactive children museums, marketing playground equipment, and providing safety consultations. With a background in Environmental Design, Elementary Education, and ASTM International (ASTM) playground safety regulations, Betsy has shaped Playcare's approach to play spaces.
At Playcare, the design process begins with a safety inspection of the play site and any existing playground structures. The evaluation includes such factors as site location, lighting, transportation needs, facilities, supervision plans, enclosures, drainage, shade, topography, space, and natural features.
While designing play spaces, Playcare works with the children, staff, and administrators. Recognizing the child's "natural need to move and explore," they design an open space for free movement; climbing opportunities; sliding, swinging, spinning, and rocking equipment; space to create; and space to be quiet and alone.3
After designing a play space and before the playground is started, they estimate what it will cost to maintain the proposed play space. Betsy, with her background in playground safety, believes that, "the greatest single cause of playground injury is the lack of maintenance. A playground that is created but not maintained in a safe manner can be the cause of serious injury or even death" to children.4 At the completion of the playground, Playcare concludes with a final safety audit and a maintenance and inspection program outline.
Playcare's commitment to safety is grounded in Betsy's national involvement with writing safety standards and in training safety inspectors.She served on four ASTM subcommittees before founding and chairing the ASTM F15-44 subcommittee on Safety Standards for Play Equipment for Children Under Two.5 She became a Certified Playground Safety Inspector (CPSI) through the National Playground Safety Institute (NPSI) of the National Recreation and Park Association and conducted CPSI training sessions for over a decade.
Playcare designs playgrounds for infants through school-aged children, including children with special needs. Based in Wawa, Pennsylvania, Playcare designs and inspects playgrounds for public parks, housing developments, schools, and early childhood centers.
1. "Children's Playground Equipment." Playcare, Incorporated. < http://playcare-inc.com/ > 7 May 2012.
2. "Playground Safety Philadelphia." Playcare, Incorporated. < http://playcare-inc.com/playground-safety-philadelphia.html > 7 May 2012.
3. Caesar, Betsy. "Give Children a Place to Explore." Child Care Information Exchange. March 2001. < http://tachedaycare.com/Articles/Explore.pdf > 7 May 2012.
4. Op.cit., Caesar.
5. Note: Betsy Caesar was a part of ASTM F15.29 Standard Consumer Safety Performance Specification for Playground Equipment for Public Use, F15-36 Soft Contained Play Systems, F15.16-21 Safety Standards for Juvenile Products, and F963-96a Safety Standards for Toys.