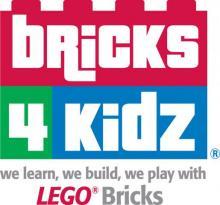 Bricks 4 Kidz is a LEGO®-based play and learning franchise business opportunity owned by Creative Learning Corporation. They offer building activities for children ages 3-13+ and believe that kids learn best through activities that engage their curiosity and creativity.1 In non-competitive play situations, they explore education concepts such as science, technology, engineering, math and architecture; foster teamwork, problem solving, communication, and self esteem; and approach activities through visual, kinesthetic, and auditory learning styles.
Michelle Cote, drawing on her architectural background, founded Bricks 4 Kidz in June of 2008.2 Initially she conducted after-school classes, birthday parties, and school break camps based on LEGO Bricks. Within a year in May 2009, Michelle co-founded Creative Learning Corporation where she serves as Director and Brian Pappas is CEO. Since then franchises have been sold in the U.S. and over a dozen other countries internationally.3
To the original Bricks 4 Kidz activities were added pre-school classes, field trips, summer camps, and Bricks 4 Kidz Night Out - 3 hours of pizza, games, projects, and LEGO Brick creating.4 Often the programs are first held at private locations and then expand into Creativity Centers at commercial locations. Academic field trips typically are offered in the schools or at the Creativity Centers.
The After School Program involves exploring an education-based LEGO Brick model. These Bricks 4 Kidz models are created by Creative Learning Corporation designers and are not available in retail stores. By focusing on math and science concepts the models "develop an appreciation for how things work" and "trigger children's lively imaginations."5
The Pre-School Classes build with the larger DUPLO Bricks and highlight a new letter of the alphabet each week.6 Development skills such as position and ordering, fine motor skills, and patterning are reinforced as well.
Bricks 4 Kidz Camps began as school break options for children ages 5-13 years and expanded to also include a longer summer camp format. Based on using LEGO Bricks to explore the fields of engineering, architecture, robotics, and animation movie-making, the camps also utilize LEGO Technic pieces for more complex designs which need gears, axles, electric motors, sensors, and remote controls.7 Additional summer camp themes include an amusement park camp, extreme expedition camp, space adventures camp, and a "Bricks 4 Girlz" workshop.8
1. "Bricks 4 Kidz." Bricks4Kidz. < http://bricks4kidz.com > 4 March 2013.
2. "Creative Learning Corp." Business Week. < http://investing.businessweek.com/research/stocks/snapshot/snapshot.asp?ticker=CLCN > 4 March 2013.
3. "Bricks 4 Kidz Ranked #22 on entrepreneur Magazine's Fastest Growing Franchise List." Business Wire. < http://www.businesswire.com/news/home/20130124005304/en/Bricks-4-Kidz®-Ranked-22-Entrepreneur-Magazine's > 4 March 2013.
4. "Programs & Events." Bricks 4 Kidz. < http://www.bricks4kidz.com/program-events/ > 4 March 2013.
5. "After School Programs." Bricks 4 Kidz. < http://www.bricks4kidz.com/program-events/after-school-programs/ > 4 March 2013.
6. "Pre-School Classes." Bricks 4 Kidz. < http://www.bricks4kidz.com/program-events/pre-school-classes/ > 4 March 2013.
7. "Camps." Bricks 4 Kidz.< http://www.bricks4kidz.com/program-events/camps/ > 4 March 2013.
8. "Summer Camps." Bricks 4 Kidz. < http://www.bricks4kidz.com/summer-camps/ > 29 April 2013.