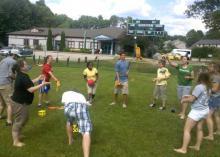 John LaRue founded Back2BasicPlay, a not-for-profit corporation (501c3 status pending), to promote how play and games help produce children of character while promoting healthier lifestyles.1 Believing that some children tend to turn to violence because they haven't learned how to properly resolve conflict, John suggests that children need to experience social, interactive play through games. By learning to create and play new games, children learn to interact effectively with one another and to resolve conflicts properly. They also increase their self-esteem and leadership skills as they engage in physical exercise and peer interaction, which overall results in "healthier, happier children of character who are contributing members of their communities."2
Back2BasicPlay (B2BP) was founded in 2003, though its roots came from the New Games Foundation events in 1979. John participated in those early game events as he was earning his Bachelor of Science degree in Recreation from State University of New York (SUNY) at Brockport. After graduating in 1979, he became a "Referee" in the New Games movement in 1980 and attended the East Coast New Games Training Camp in 1981. That same year, he became a Lead Assistant Trainer, contributed to the New Games Foundation's book, More New Games,3 and founded his own game business, Friends of New Games, in Rochester, New York.
Though the New Games Foundation ended in the 1980s, John continued to conduct workshops and seminars on cooperative play activities as he earned his Master's of Science degree in Recreation from SUNY Cortland (1989). As a Certified Therapeutic Recreation Specialist, John believes that "cooperative/non-competitive play provides the essential framework for a healthy child/healthy mind."4
Back2BasicPlay has formulated a procedure to teach children to create their own games. This is facilitated by training youth leaders through workshops given. Though a portion of the workshops include a presentation on the need for character education through cooperative-based play, the larger focus of the workshops involves learning to create games by experiencing the process first hand through active play.5 B2BP also offers a Game Kit Package to facilitate these new game creations. This kit includes the PlayMaker games panel (patent pending), a tool that allows the user to create well over 50,000 unique game and play ideas.6
Based on the Create-a-Game Grid in More New Games, Back2BasicPlay uses a similar Games Grid, which itemizes seven game components and ten subcomponents for each game component. The seven components include equipment, environment, structure, objective, action, roles, and ritual. Subcomponents under the component "objective," for example, include capture, throwing, score goals, achieve, guessing, tagging, responding, racing, keep adding, eliminating.
A game is created by choosing seven numbers which are then matched on the Grid to one subcomponent in each game component category. The children are then presented with the challenge of creating a game with those items/conditions. For instance, the phone number 431-7865 would create a game that involved imposters who bowed as they used bouncy balls on the beach in a bounded area with an objective of racing by jumping. Teachable moments by an instructor, teacher, or supervisor bring out the opportunity for the children to take time to think, discuss, strategize, and learn from one another.
Each group of children are encouraged to blend these parameters into their own unique game, name the game, play the game, change the rules to improve the game if they want, and then play the game again. These procedures bring out B2BP's reigning philosophy: "the PROCESS … is the real game!"7
1. "Back2BasicPlay: The Foundation of Cooperative & Non-Competitive Play & Games." Back2BasicPlay. < http://www.back2basicplay.org/resources/H%20-%20Seminar%20Outline%20&%20Guidelines.pdf > 1 Feb. 2012.
2. LaRue, John P. and Amy S. Christensen. "Why do we need to get 'Back2BasicPlay'?" Back2BasicPlay. < http://www.back2basicplay.org/resources/A%20-%20Why%20We%20Need%20to%20get%20back%20to%20Basic%20Play.pdf > 1 Feb. 2012.
3. "Biographical Sketch." Back2BasicPlay. < http://www.back2basicplay.org/resources/B%20-%20Biographical%20Sketch.pdf > 1 Feb. 2012.
4. LaRue, John. Email correspondence to Playground Professionals. 3 Feb. 2012.
5. Op.cit., "Back2BasicPlay: The Foundation of Cooperative & Non-Competitive Play & Games."
6. "Game Kit package." Back2BasicPlay. < http://www.back2basicplay.org/resources/K%20-%20Game%20Kit%20Contents%20and%20Ordering%20Information.pdf > 1 Feb. 2012.
7. "The Games Grid." Back2BasicPlay. < http://www.back2basicplay.org/resources/F%20-%20Games%20Grid%20and%20Instructions.pdf > 1 Feb. 2012.