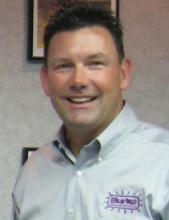 Tim Ahern owned and led BCI Burke Company, a playground manufacturing company that has been in the business of creating playgrounds since the 1920s, from 1997 to 2017. Although not a member of the original Burke family, Tim held the same values and traits as his predecessors at BCI Burke.
Tim graduated with a Bachelor of Science degree from the University of Notre Dame in 1989 and then became a sales manager for Pfizer, a large international pharmaceutical company based in New York City.1 Nine years later, in July of 1997, Tim and a group of investors bought BCI Burke Company and moved back to his hometown and Company headquarters in Fond du Lac, Wisconsin. Within a year, Tim brought his current business partner, Mark Sondergard, who had previously been the company's accountant.2
Though Tim wasn't a fourth generation Burke, he was a fifth generation successful businessman in Fond du Lac; his family's business, the J.F. Ahern, is a mechanical and fire protection contractor. Tim joined BCI Burke appreciating their long history in the playground industry.
Tim's philosophy in business is, "You treat people with dignity and respect, you do the right things, you hold yourself accountable, and you perform."3 Accordingly, Tim and Mark began leading BCI Burke by establishing both core measurements to quantify how the company was operating and core values to define what kind of company they were building. They established six core values: Integrity, Innovation, Respect for People, Teamwork, Leadership, and Performance.
They also discovered serious outmoded production practices that were not meeting their sales' demands. Moving his office into the production arena, Tim, with Mark's assistance, trained leaders in new policies and procedures to establish an efficient inventory and production department. Building on the BCI Burke strong work ethic, they were able to effect the necessary changes by 2001 and thus bring the company into a competitive 21st century.4 Three years later they received the ISO 9001:2000 certificate indicating they meet quality standards for effective and consistent operational processes.5
During this time Tim became involved with the ASTM International (ASTM) Standards Committee 15.29 under Fran Wallach's leadership and the F-1487 playground equipment subcommittee. He also served on the National Program for Playground Safety (NPPS) Advisory Board of Directors.6 In support of NPPS and being an avid leader of playground safety, BCI Burke provides a NPPS Safety Supervision Kit for free to every modular play system customer.
Previously in 1995, BCI Burke had been a founding member of the International Play Equipment Manufacturers Association (IPEMA).7 From 2002-2010, Tim became involved in IPEMA and successively served on the Board of Directors as Director at Large, Secretary, President, and Immediate Past President. He was also the Chair of the IPEMA Advocacy Committee. All of BCI Burke products undergo the IPEMA third-party certification process.
Under his leadership, BCI Burke introduced triple chute slides, exclusive playground lines, Intensity Fitness Play line, Nucleus play structures, Viper Slides, Voltage play line, and the Rock It line. He also initiated "green" initiatives that led to earning the ISO 14001:2004 certification. BCI Burke is now a part of the Alliant Energy Second Nature Program, which supports the development of clean, unlimited energy sources. By pursuing multiple energy partnerships, as of 2012, BCI Burke obtains 100% of its electricity from renewable sources.
Tim has given national presentations on the subjects of planning and building playgrounds and risk management on playgrounds. His philosophies of management and marketing have been featured in public press books as well. Furthermore, his passion for playgrounds can be summarized in his statement: "I love making playgrounds, because I love children. I love visiting the playground and seeing a child getting valuable exercise and laughing for joy as a result of something our engineers designed and our craftsmen made. I even love getting out there and playing myself, for that matter."8
Tim left BCI Burke in May of 2017.
1. "Timothy O. Ahern." Personal correspondence to Playground Professionals. 9 March 2012.
2. "1990s." Burke, Premier Play Environments. < http://www.bciburke.com/history1990s.html > 29 April 2012.
3. Berg, Rick. "PLAYMAKERS: Tim Ahern and Mark Sondergardof BCI Burke in Fond du Lac have their company positioned as a national power in the playground equipment market." Marketplace, Sep. 10, 2002, posted on Allbusiness.< http://www.allbusiness.com/human-resources/employee-development-leadership/1131618-1.html > 9 March 2012.
4. Ibid.
5. "2000 to present." Burke, Premier Play Environments. < http://www.bciburke.com/history2000topresent.html > 29 April 2012.
6. Op.cit., "Timothy O. Ahern."
7. Op.cit., "2000 to present."
8. Ahern, Tim. "Generations of Play: Burke Built Quality in a New Light." Playground Adviser. 2009. < http://www.bciburke.com/playgroundadviser012009.html > 9 March 2012.