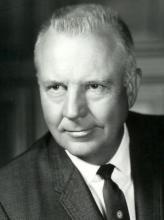 Claude W. Ahrens was born in 1912 in Iowa. His parents raised him with a strong work ethic and close family ties. He graduated from high school in 1931, declaring he wanted to be a millionaire. This brought laughs from his fellow students, since Claude was the poorest student in the school, and the economy was worsening into the Great Depression.
After trying farm work, factory work, and a year of college, Claude discovered his skills as a salesman. He began with selling his father, John Ahrens', innovative design of a merry-go-round called the Miracle Whirl. Within two weeks he had sold the ten prototypes to satisfy his father's debt. He declined the opportunity to sell more Whirls and instead dabbled in selling fly traps for dairy cows, feed corn to drought-stricken farmers, advertising clocks to businesses, and ads in sale barns throughout Iowa.
Claude eventually settled into selling hybrid seed corn for Pioneer Hybrid Seed Corn Company. In 1939, while he was in Oklahoma selling seed corn, Claude's sister asked him to sell thirty more Miracle Whirls to help his father repay yet another debt. Having them shipped to him, he sold the Whirls, but declined again to sell any more.
In the early 1940's Claude formed his own hybrid seed corn business, the Ahrens Seed Corn Company, headquartered in Grinnell, Iowa. His business prospered because of his sales skills, innovation, and determination. Claude became the owner of the Miracle Playground Company and holder of the Miracle Whirl patent in exchange for John becoming a part owner of the Ahrens Seed Corn Company. He found that making John an investor in his business was the best way to financially support his parents.
With the return of soldiers after World War II, Claude was ready to sell his seed company and employ veterans in manufacturing and selling Miracle Whirls. After testing the market, redesigning the Whirl, and organizing a sales force, the resurrected Miracle Playground Company sold 900 Whirls in 1947. That was also the year that Claude sold his seed company to Cargill and went into the playground industry full time.
Claude quickly expanded into other playground equipment, such as swings, teeter-totters, and jungle gyms, using "candy cane stripe" paint to instantly differentiate Miracle equipment from competitors' equipment.
Though a fire destroyed their factory, Claude didn't let this stop him. He designed a new factory that was twice as big as he required and sold the extra space with plans to buy it back when needed. Claude's ability to think big and plan for growth was an asset for the Miracle Playground Company.
Claude's creativity shaped their new products. A colleague said, "He saw needs and invented solutions."1 This included the varied needs in his sales force, factory space, trade associations, materials, and transportation as well as the market. Over the years this led to the use of fiberglass and powder coated steel, his own trucking fleet, an extensive sales force network covering the United States, and supporting trade shows and national associations.
His innovation in marketing products led to selling smaller carousels to drive-in movies and large stores such as K-Mart. It also led to covering wooden stadium bleachers with fiberglass and producing modular swimming pools for schools. Together with his son Paul Ahrens, Claude created the People Mover Train as well as 16 other patented designs, such as the Astro City, Tornado Slide, Earn-A-Slide, Tower Climber, the Miracle Junior Challenge Course, and the Ronald McDonald figures and indoor playgrounds.
In 1972, Paul became president, and the company was renamed the Miracle Recreation Equipment Company. Claude was expanding sales into Europe at that time as well as continuing to innovate. He also remained as the chairman of the board.
Remembering his farming heritage, Claude invented fiberglass silos and bulk bins, Mirahuts for sows, and Mirafounts for watering stock. This branch of Miracle Recreation was separated in 1983, when Claude bought the rights and founded Miraco as a division of Ahrens Manufacturing, Inc.
An associate described Claude's creative abilities as like the spokes of a wheel. "It's not first this one, then this one and then this. It's many different interests going in lots of different directions all at the same time."2 He also had the talent to "take an invention and move it into production, transport it, and sell it."3
Claude, a realist as well as a visionary, stepped down from the chairman of the board in 1983 and installed Sharp Lannom to handle the difficult issues with growth and unions. He could see that neither he, nor Paul had the abilities to resolve these issues. After three years, Sharp had the company relocated to Monett, Missouri, the manufacturing updated, and the union issues solved.
Sharp resigned, and Paul became chairman of the board for three years until his death in 1989. At that time, Claude bought back Miracle Recreation and restored it to solid financial footing. Claude's wife of 54 years also died of cancer just two years after Paul's death. Not long after this, Claude sold Miracle Recreation to Play Power, Inc. and retired.
Retirement for Claude meant golfing and giving back to the community. As he was known to say, "Our obligation to life was to leave this world a better place than what we found it."4 This practice had always been a part of Claude's personality and showed up in the innumerable ways he helped those around him. His charity work began in 1985 when he set up a private foundation, the Claude W. Ahrens Charitable Trust, which supports religious and faith-based organizations in central Iowa.
Then after his wife's death, he established the Dolly Ahrens Achievement Scholarship Awards with a $500,000 endowment to the Grinnell-Newburg School District. To honor his son, he donated over $4 million and 50 acres for the Ahrens/Paschall Memorial Park and the Ahrens Family Center. And to generally benefit the Grinnell community he created the Claude W. and Dolly Ahrens Foundation in 1992. This foundation continues to enrich the area through millions of dollars and valuable assistance to non-profit groups.
Claude substantially assisted the Jasper County Conservation Board in 1994 to create the 76 acre lake and wetland known as the Ahrens Access to the Jacob Krumm Preserve. In that same year, he donated $1 million to build the National Recreation and Park Association (NRPA) headquarters. Others matched his donation, and the Ahrens NRPA Institute was completed in Ashburn, Virginia.
Grinnell Regional Medical Center and Grinnell College also benefited greatly from Claude's philanthropy, and in 1995 he received an honorary degree from Grinnell College recognizing his accomplishments.
To recognize others who have contributed, every year since 1998, the Iowa Parks and Recreation Association awards the Claude Ahrens Community Service Award to a volunteer outside of the recreation profession who has contributed to programs and resources. Nationally, the National Program for Playground Safety (NPPS) has given an Ahrens Playground Safety Advocate of the Year Award every year since 2004. The Ahrens Foundation donated $250,000 to help locate the NPPS at the University of Northern Iowa. Claude's support of the recreation industry continues today through this Foundation.
Claude Ahrens died in 2000, a multi-millionaire, and left the world a far better than what he found. Also, the playground industry was enriched, because he had established one of the largest and oldest manufacturing companies, Miracle Recreation Equipment Company.