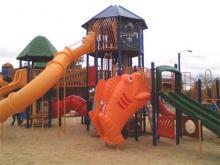 Over 80 years ago, in 1927, John Ahrens formed Ahrens Manufacturing Company in Grinnell, Iowa. He had seen a perpetual motion machine at the Texas State Fair and with that inspiration designed a new merry-go-round called the Miracle Whirl. John was awarded a patent for his unique design which allowed just one person to make the merry-go-round move by shifting their weight across the surface.
After starting Ahrens Manufacturing Company with his son Don Ahrens, John produced thirty Miracle Whirls but didn't sell them. To help his father, Claude Ahrens took the time from selling hybrid corn seed to sell the Miracle Whirls to country schools. Due to the war needs for steel, the production of more Whirls was postponed.
Claude was beginning his own seed corn business in the early 1940's. However, in order to assist his parents, he also became the owner of Ahrens Manufacturing Company. He continued to build his corn seed business throughout World War II. After the war, as a way to employ returning soldiers, Claude decided to manufacture and sell the Miracle Whirls again. He tested the market, hired salesmen, improved his father's design, added colorful paint, and sold 900 Whirls in 1947. That same year he sold his seed corn company and focused fully on the playground market.
Renaming the resurrected family business Miracle Playground Equipment Company, Claude added other common playground equipment of the era:  swings, teeter-totters, and jungle gyms. Again Claude used paint, this time in the form of a "candy cane stripe," to easily identify their products.
A fire destroyed the Grinnell Glove Factory where the Miracle Company was located. Claude designed a new building, and it was built on farmland west of Grinnell. While building Miracle's new factory, Claude was also building the company across the United States.
In the 1950s he expanded the market by selling an eight-horse version and a sixteen-horse version carousel to the drive-in movies. Between the school playground equipment and the drive-in mini carousels, Miracle became established as a leader in the recreation and parks market. By the end of the decade the drive-ins were disappearing, but the sales of very small carousels continued at K-Mart and many other large stores.
By the1960s Claude had created a network of salesmen that covered the whole United States in forty districts. He was known to hire salesmen who were more professional and competent rather than flashy and polished. This was considered a major strength of the Miracle Company.
Claude also widely utilized the trade shows and conventions for sales. He was involved with the National Parks Association (NPA), the American Institute of Park Executives (AIPE), and the American Recreation Association (ARA). These three groups merged with others to form the National Recreation and Park Association (NRPA) in 1965, and Miracle made sure their salesmen promoted the new association with each sale. Later, Miracle would also be a founding member of the International Play Equipment Manufacturers Association (IPEMA).
Miracle moved into their new factory in 1963. Led by Claude's inventiveness, Miracle pioneered using fiberglass for slides and canopies. Though this allowed more colorfulness, instant recognition, and creative playground components, it was also a difficult medium to use. Due to this, product failure became a litigious problem, but Miracle honored their guarantees.
Having become expert at using fiberglass, Claude discovered a new market when at a University of Iowa football game. After suffering a splinter from the wooden bleacher, he designed a way to cover the wooden seats with fiberglass. Soon Miracle was covering major stadium's bleachers with numbered and team colored fiberglass. This expanded into covering seatbacks and eventually into making molded seats. They also began using a plastic coating to cover the fiberglass as a protection from the hot sun. In the late 1960s Miracle also began to use a powder coating on steel parts of their playground equipment.
Claude and his son Paul Ahrens developed a surface "train" to transport people from their cars in a large stadium parking lot to the stadium event. The first one was used for the 1965 Astrodome opening event in Texas. Adventureland in Disneyland as well as large resorts across the country also utilitized them.
In the 1970s, Claude introduced the modular swimming pool for schools to teach swimming and water safety. These five feet wide and thirty feet long pools could be installed in spare classrooms or even on a fifth wheel trailer that could be moved from school to school.
By this time, Miracle employed over 200 workers in selling and manufacturing playground equipment and bleachers in factories strategically placed in California, Iowa, and Virginia.
While Claude was expanding Miracle sales into Europe, Paul became President of the company in 1972. At that time Miracle also sold 30% of its shares to the public and became Miracle Recreation Equipment Company.
During the 70s and the 80s Claude and Paul continued designing and leading the playground industry in innovative equipment. Together they would have over 16 patents for their designs. Among these were the Astro City, Tornado Slide, Animal Hop, Flying Gym, Rock Mountain, Earn-A-Slide, Tower Climber, and the Miracle Junior Challenge Course. Today Miracle Recreation holds more than 38 patents.
Besides the innovations in the playground industry, Claude and Paul also created fiberglass silos, fiberglass bulk bins, hog farrowing huts called Mirahuts, and the very successful stock watering tanks called Mirafounts. This agricultural line of Miracle Recreation was eliminated in 1983 when they restructured the company. Claude bought the rights to the agricultural products and founded Miraco as a division of Ahrens Manufacturing, Inc.
As part of a larger trend toward union problems in the Midwest during the 1980s, Miracle Recreation Equipment Company's workers held a strike against the Grinnell factory in 1980 and 1981. In 1982, Paul announced plans for a new plant in Monett, Missouri, a less friendly state for unions. The next year Claude resigned as chairman of the Miracle Recreation board and installed Sharp Lannom as chair. Over the next four years Sharp shaped the company's management into a more corporate model, resolved the labor issues, and moved the headquarters to the new plant in Missouri. After accomplishing these goals, he resigned in 1986, and Paul became the chairman of the board with controlling interest in the company.
During this time a major new market opened up for Miracle Recreation. McDonald's was beginning to add playgrounds to their fast food restaurants through the California company Setmakers. Miracle Recreation bought Setmakers, and Paul created the Ronald McDonald and Hamburgler figures for McDonald's. The rapid expansion of this market came during a golfing break and a resulting bet between Claude and Ray Kroc of McDonald's. Claude bet $300,000 that Miracle Recreation could increase sales by 50% in two of the McDonald's stores: one in Watts, California, and the other in Chicago, Illinois. After six months those stores increased their sales by 200% due to the playground equipment and playground characters that Paul designed. Besides winning the bet, Miracle Recreation won the contract to produce all the equipment for the 500 playgrounds that Ray installed in McDonald stores each year for several years.1
Paul was chairman of the board for just three years before he died of cancer in 1989. Claude bought back the Miracle Recreation Equipment Company, which was struggling financially. Within a year the company was on solid financial footing again, and eventually Claude sold it to PlayPower, Inc.
A new innovation is the MiracleTech Security system, which combines SiteBrite lighting, ParkWatch video monitoring, and the SonicScreen vandal deterrent. With proceeds from MiracleTech, Miracle Recreation became a corporate sponsor of The National Center for Missing and Exploited Children (NCMEC) in 2009.2
Currently they offer complete play systems, modular play events, free-standing playground equipment, sports and outdoor play equipment, pool slides, playground surfacing, and playground amenities. Some of Miracle Recreation's landmark innovations have been anti-microbial paint, the versalok clamp system, gator grips, easy-slide tension system for sun shades and toppers, the mega tower design, and the spiral slide designs reaching 12 feet high.
In 2012, Miracle Recreation received the "Excellence Through Safety" Small Contract Award from the Army Corps of Engineers. Established to honor companies that "go above and beyond contractual safety requirements," Miracle was the first recipient of the award for emphasizing safety for the installers and quality construction for the children on a playground installation project in Jefferson, Texas.3
1. Hunter, Judith W. Grinnell's Entrepreneurial and Philanthropic Pioneer: A Biography of Claude W. Ahrens. Grinnell, Iowa: Claude W. and Dolly Ahrens Foundation, 2009.
2. "MiracleTech Security." Miracle Recreation Equipment Company. < http://www.miracle-recreation.com/miracle-tech.html > 13 Oct. 2010.
3. "Miracle Recreation Equipment Company Receives Army Corps of Engineers Safety Award." Market Watch. PR Newswire. < http://www.marketwatch.com/story/miracle-recreation-equipment-company-receives-army-corps-of-engineers-safety-award-2012-02-03 > 3 Feb. 2012.