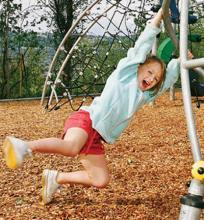 Zeager playground surfaces came about initially because of the wasted wood by-products in the sawmill, which the Zeager family started in 1967. In order to make use of this wasted bark and scraps that couldn't be used for lumber, they began to manufacture landscaping mulch in the 1970s. By the late 1970s, the Zeager Brothers were producing engineered wood fiber, which was being used in arenas and on horse training tracks. In the mid-1980s this engineered wood fiber was accepted as a good surfacing material for playgrounds because of its impact attenuating qualities and natural look.
Zeager discontinued the sawmill operations in 1990 and concentrated their efforts on the development of landscaping mulch, drainage, and surfacing items. Within this effort, Zeager worked to develop an objective test method for determining playground surface accessibility. This was a joint effort of Zeager and an independent trail surface testing company. The research eventually led to the ASTM International (ASTM) standard for playground accessibility. This ASTM standard "ensures that less effort is required to maneuver across the playground surface than is required to maneuver up an accessible ramp."1
Zeager offers a range of playground surfacing materials, such as WoodCarpet® engineered wood fiber and Bonded WoodCarpet®, which bonds the top layer of the engineered wood for greater accessibility. To prevent the holes and puddles that often form under swings and slides, Zeager offers WoodCarpet Mats®. And DuraDrain® is an impact attenuating drainage layer for use under WoodCarpet®. Zeager also offers RecMat®, an interlocking tile made of 90% recycled rubber, RecGrass®, an artificial grass which comes in 3/4" and 1.25" thicknesses, and RecBase®, a recycled foam base material for added fall protection and drainage. These surfacing materials meet the Americans with Disabilities Act (ADA), the ASTM International (ASTM), the U.S. Consumer Product Safety Commission (CPSC), and the Canadian Standards Association (CSA) standards for playground surfacing.2
They also manufacture an all-weather equine footing, a variety of dyed landscaping mulchs, clean recycled wood bedding material for livestock, and EcoDrain®, a recycled drainage and protection material for "green roofs."3 These "green roofs" are covered with a growing medium and a variety of sedum to help make buildings more energy efficient and environmentally friendly.4
Zeager has offices in Pennsylvania and Kentucky.