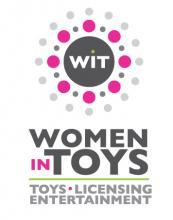 Women in Toys (WIT) is a professional mentoring and networking organization for women and men within the toy, entertainment, and licensing industries. As a global organization, they support and celebrate achievements of women while providing resources, access, information, and recognition for "ingenuity, resourcefulness and creativity" of both men and women in the industry.1
After years of informally gathering to network during the American International Toy Fair week, WIT was officially founded in 1991 by Susan Matsumoto and Anne Pitrone, both long time industry leaders in toy designing and consulting. Originally formed to give women more opportunities to network on all levels of the toy, entertainment, and licensing industries, WIT has expanded to include men. Through networking events, an online directory, and annual awards they have brought "confidence and opportunity in a fast-changing industry."2
Annually, WIT and NPD Group co-host the Trends in the Toy Industry Nuremberg Networking Event at the beginning of the Nuremberg Toy Fair held in Germany. Later in February they begin the New York City's American International Toy Fair with the Wonder Women of Toys, Licensing and Entertainment Awards Dinner. At the awards dinner WIT celebrates nine women leaders in the industry in categories such as Designer or Inventor, Marketing and Branding, Rising Star, Socially Responsible, and a Lifetime Achievement Award. In 2013, they gave their first Super Man award to a man who has been a longtime WIT Member and greatly contributed to the growth and success of the organization, a tradition they intend to continue.
Additionally at the Awards Dinner, Women in Toys awards scholarships to young women studying toy design at universities in the United States, Canada, and Israel. These scholarships are funded by toy companies and the Toy Industry Association through the Women in Toys Foundation, Inc.
In 2013 at the NYC Toy Fair, WIT partnered with Walmart, one of the world's largest retailers, to launch the WIT-Walmart Women's Global Economic Empowerment Initiative. For WIT members the initiative included a panel discussion on "Top 5 Tips for Selling to Walmart..." and Walmart WIT PiTCH Meetings. The PiTCH meetings gave WIT entrepreneurs individual time with the full Walmart toy buying team, including the buyers for the toy divisions, regional divisions, and walmart.com division.3
1. "About." Women in Toys. < http://womenintoys.com/about/ > 6 Feb. 2013.
2. "Founders." Women in Toys. < http://womenintoys.com/about/founders/ > 6 Feb. 2013.
3. Gottlieb, Richard. "Women in Toys, Wal-Mart and more; an interview with Genna Rosenberg." Global Toy News. < http://www.globaltoynews.com/2013/02/women-in-toys-wal-mart-and-more-an-interview-with-genna-rosenberg-.html > 6 Feb. 2013.