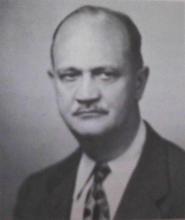 As a behind-the-scenes leader of the Playground Association of America, Arthur Williams assisted to shape the field of recreation for fifty years in the early 20th century. When he retired in 1963 his service was summarized: "Through his wise counseling in many groups devoted to the different phases of recreation, he has helped to guide the recreation movement in such a way as to bring greater recreation satisfaction to service men and women around the world, to senior citizens everywhere, to participants and spectators alike in the field of sports and athletics, and to that great army of youngsters who enjoy and have enjoyed for many years the public playgrounds of the U.S.A."1 He was also praised for "his encyclopedia knowledge, his focus on the essential, with no wasted energy, and his ability to appraise a situation accurately."2
Arthur began his career in 1910 at the age of sixteen as an office boy in the offices of the Playground Association of America (PAA). Progressing to managing the office, Arthur's budget and management experience was further utilized during World War I. At that time he became responsible for the budget and operating problems of the War Camp Community Service, a program that provided recreation for military men and women and advanced the recreation movement substantially.
After the war Arthur began to teach the importance of both a standardized budget listing expenditures and a functional budget. He believed this was important in order to both reduce waste within a recreation organization and to gather support from their board of directors and municipal leaders. In 1927 he taught that, "Administrative effectiveness is absolutely dependent upon accurate cost figures prepared on a functional and unit cost basis. A careful check on details is the only way in which waste can be kept at a minimum."3
At that time, these were new and unpopular suggestions. Arthur assisted local recreation authorities by preparing sample budgets for different sized cities and procedures for gathering accurate cost records. Decades later in 1961, he spoke on recreation budgets to a much more receptive audience at the association's annual Congress.
For the PAA, now known as the National Recreation Association (NRA), Arthur assessed past and present recreation legislation and conducted a study of court cases regarding accident liability. His analysis of liability court cases and conclusions, published in 1932 as the booklet Is Park and Recreation Service a Government or Proprietary Function?, became a guiding reference for municipal and recreation leaders.4
During the American Depression, Arthur utilized the success of a relief pilot program in New York State to prepare a NRA estimate of the national need for recreational personnel and facilities. Harry Hopkins, who had been the Relief Administrator for New York and who was now the Federal Relief Administrator, used Arthur's statement to develop the recreational portions of both the Works Progress Administration (WPA) and the National Youth Administration (NYA).
Arthur became a consultant to Aubrey Williams, the administrator of the newly formed NYA. During the first year, with his assistance in determining policy and establishing effective management, the NYA created 1000 recreation work projects that employed more than 50,000 youth.5 In another program, part time employment was given to 400,000 students so they could continue their university education. Between the work projects and the job training programs, recreation areas and facilities were created or re-established in communities across the country. Students were also trained as recreation leaders to manage these additional recreation facilities.
Due to his familiarity with youth issues, Arthur was asked to prepare a digest of the Prospect of Youth symposium which was then published in the Annals of the Academy of Political and Social Science. Often he was asked to prepare an article on recreation for the Social Work Yearbook, which later became the Social Work Encyclopedia. He also gathered the facts for the International City Manager's Association's Municipal Yearbook's section entitled Park and Recreation Developments.6 Additionally, for the NRA's magazine Recreation, Arthur served as an assistant to the editor-in-chief.
As recreation departments were being formed and facilities built, Arthur devised a system for rating a city's recreation programs, which was published by NRA as Schedule for the Appraisal of Community Recreation.7 He also assisted the New York City Board of Education in further developing their recreation programs.
During World War II, Arthur served in the Recreation Department of the Office of Community War Services, a part of the Federal Security Agency. The division organized activities for military personnel and established clubhouses for their off-duty recreational needs. For many years Arthur also served as the secretary of the National Advisory Committee on Defense Related Activities. He was responsible for supervising and funding NRA's field workers in providing recreation to the armed forces throughout the world.8
In national leadership, Arthur was the secretary of the NRA's policy and program National Advisory Council, which was composed of "top" recreation practitioners. He represented NRA on the American Recreation Society's Administrative Council and on the Planning and Policy Committee for the National Recreation Congress, an annual conference co-sponsored by these two national recreation organizations.
Perhaps his most noticeable position in NRA was as an advisor to Howard S. Braucher, the Association's executive secretary. He also remained after Howard's death to assist the leadership transition to the new executive director Joseph Prendergast.9 Generally within the NRA, Arthur was known for his "keen" mind and "he was ever ready to apply it in helping solve a difficult problem or in determining a plan of action."10 With these abilities he was often a troubleshooter throughout the organization.
As Arthur approached his 60th year, in 1953, he published Recreation for the Aging. Eight years later in 1961, he was invited to be a resource and the recorder for the White House Conference on the Aging. Two years later he revised his book and reissued it as Recreation in the Senior Years.11 That same year, 1963, Arthur retired from the National Recreation Association just as it was transitioning into becoming the National Recreation and Park Association (NRPA).
1. Butler, George D. Pioneers in Public Recreation. Minneapolis, MN: Burgess Publishing Company, 1965. p.137.
2. Op.cit., Butler., p. 136
3. Op.cit., Butler., p. 134
4. Op.cit., Butler., p. 134
5. Op.cit., Butler., p. 135
6. Op.cit., Butler., p. 136
7. Op.cit., Butler., p. 135
8. Op.cit., Butler., p. 135-136.
9. Op.cit., Butler., p. 133
10. Op.cit., Butler., p. 137
11. Op.cit., Butler., p. 136