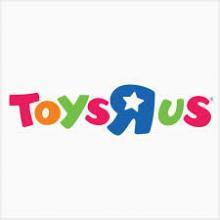 Charles Lazarus, the founder of Toys "R" Us, began selling baby furniture in 1948 in Washington D.C. Aiming for the post World War II baby boom market, Charles soon added rattles, cradle gyms, stuffed animals, tricycles, books, and toys. He called the store the Children's Bargain Town.1 Charles' next store, which pioneered the supermarket floor plan, was called the Baby Furniture and Toy Supermarket. However, in 1957, when he opened a store in Rockville, Maryland, that longer name wouldn't fit the sign. Thus the current name, Toys "R" Us - with the backwards "R" - was born.2
By 1966, Charles had four stores in the Washington D.C. area, which he sold to Interstate Stores Inc., a company of small department stores and large discount store chains. Charles remained to run and expand the Toys "R" Us store chain. After twelve years, a bankruptcy, and a reorganization, there were 63 Toys "R" Us stores and 10 department stores. At this point, in 1978, the company changed their name to Toys "R" Us, Inc. and made Charles president and CEO.3
As Charles continued to spread Toys "R" Us stores across the United States, he added a children's discount clothing division, Kids "R" Us. He also implemented loss-leader discount pricing, computerized inventory control, capitalized on large volume purchasing, and utilized low-rent strip malls on major streets for new stores. By 1983 they passed the $1 billion sales milestone and, in 1986, Dun's Business Month declared Toys "R" Us one of the nation's best managed companies. At this time they had 233 Toys "R" Us stores in the United States, 13 international stores, 23 Kids "R" Us outlets, and four traditional department stores.4
Toys "R" Us joined with Montgomery Ward in 1986 to share locations, but operate independently. This brought them an advantage because of the excellent locations of the Montgomery Ward stores. The following year they announced that they would pass on their lower tax rate savings to their customers. This was a first for the retailing business, and soon Wal-Mart and Target followed suit. Then in 1988, Toys "R" Us sold the last of their department stores to focus solely on selling toys and children's apparel.
Toys "R" Us formed a joint venture with McDonald's Company (Japan) Ltd. in 1989 to open toy stores in Japan. For McDonald's 20% of the deal they could open restaurants within the stores. Internationally, Toys "R" Us and other large retail store companies faced difficulties finding locations, getting permits for stores larger than 1800 square feet, and dealing with local retailers' resistance. U.S. officials persuaded the Japanese officials to be cooperative, and the first Toys "R" Us store in Japan was christened by former President George H. Bush outside of Tokyo in 1991.5
After surmounting the international challenges in Japan, Toys "R" Us rapidly expanded to 33 countries or jurisdictions during the early 1990's, especially in Australia, Canada, France, Germany, Japan, Spain, and the United Kingdom.6 By 2006, when they had been in Japan fifteen years, Toys "R" Us had established 160 stores.7
During this time an industry analyst commented that, "I can look at a slowing economy and still feel comfortable that Toys "R" Us is going to grow."8 This was contributed to their buying clout, their deep inventories aided by a computerized UPC scanning system, their ability to accurately identify the current hot toys, and their quickness in getting these items into their stores.
At 71 years of age, Charles stepped down as chairman and CEO in 1994. Michael Goldstein became vice-chairman and Robert Nakasone became president and COO. Their vision was to create "a one-stop kid's shop."9 They began by streamlining their merchandise lines, closing under-performing stores, consolidating distribution centers and administrative facilities, and introducing Superstores, Babies "R" Us stores, and the Concept 2000 Megastore.
In a move to bolster their new Babies "R" Us stores, Toys "R" Us acquired the 78 store chain, Baby Superstore, Inc., in 1997. After converting the stores into their Babies "R" Us format, they became one of the largest retailers of baby products in the United States.
The 1990's brought increased competition from the discount chains such as Wal-Mart and Target, new competition from smaller specialized edutainment toy chains, and the emergence of the online toy market. This led to another management change in 1998: Michael became chairman, Robert became CEO, and Charles became chairman emeritus of the board. This leadership team lasted only one year during which time major restructuring was initiated, new management policies were adopted, their online retailing site was launched, and the 41 stores of the Imaginarium Toy Centers were acquired.
Robert resigned after clashing with both Michael and Charles. He was replaced in 2000 with John Eyler, who had been F.A.O. Schwartz's CEO and chairman. John continued these changes and entered into a ten year venture with Amazon.com to combine their toy and video-game stores. The following year the Babies "R" Us online store was added to the Amazon venture.
Toys "R" Us opened their New York City Times Square play store in 2001, featuring a 60-foot Ferris Wheel, a two-story life size Barbie doll house, a 20-foot tall animated T-Rex dinosaur, and a Lego New York City skyline.10 They also launched an advertising campaign with their mascot Geoffrey the Giraffe in his new animatronic look. The following year, in 2002, they created Geoffrey stores that offered customers Toys "R" Us, Kids "R" Us, and Babies "R" Us under one roof.
In 2005, an investment group consisting of affiliates of Bain Capital Partners LLC, Kohlberg Kravis Roberts & Co. and Vornado Realty Trust acquired Toys "R" Us, Inc. for $6.6 billion.11 Headquartered on One Geoffrey Way in Wayne, New Jersey, Toys "R" Us, Inc. is now a private company.
Since that time, they have expanded their line of children's electronics, introduced a Babies "R" Us brand of baby essential products, acquired one of the largest mall-based toy retailers - KB Toys, and obtained exclusive rights to F.A.O. Schwarz, a retailer of quality, innovative toys. With this later acquisition in 2009, they acquired the Fifth Avenue flagship store in New York City, a second Toys "R" Us play and shop site in Manhattan.
As a convenience to customers, Toys "R" Us opened Express "pop-up" stores in malls, shopping centers, and within Babies "R" Us stores. They also initiated the "R" Market concept where light snacks, candy, beverages, cleaning supplies, and health and beauty aids were offered under the same roof as full-sized Toys "R" Us and Babies "R" Us stores.
Also in 2009, Toys "R" Us acquired eToys.com, babyuniverse.com, and the domain name Toys.com to expand their offerings online. These were added to their Toysrus.com, Babiesrus.com, KBToys.com, and FAO.com presence on the web.
Though Toys "R" Us lost their position as the number one seller of toys in the US to Wal-Mart Stores, Inc. in 1999, they continue to produce new toy trends across the market spectrum of discount toys, edutainment toys, children's electronics, baby products, and quality innovative toys.
1. "The Beginning." ToysRus. < http://www.toysrusinc.com/about-us/history/ > 22 May 2011.
2. "Toys "R" Us, Inc. - Company Profile, Information, Business Description, History, Background Information on Toys "R" Us, Inc." Reference for Business, Company History Index. < http://www.referenceforbusiness.com/history2/2/Toys-R-Us-Inc.html > 4 February 2011.
3. Ibid.
4. Ibid.
5. "About Toys "R" Us, Inc." ToysRus. < http://www.toysrusinc.com/about-us/ > 22 May 2011.
6. Op.cit., "Toys "R" Us, Inc. - Company Profile."
7. Op.cit., "About Toys "R" Us, Inc."
8. Op.cit., "Toys "R" Us, Inc. - Company Profile." as reported in the Wall Street Transcript.
9. Ibid.
10. "More Ways to Shop Toys "R" Us." ToysRus. < http://www.toysrusinc.com/about-us/history/ > 22 May 2011.
11. Op.cit., "About Toys "R" Us, Inc."