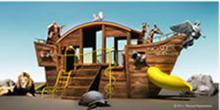 Themed Recreation Company creates themed playgrounds, stand-alone play and climbing structures, icon play and brand sculptures, and spray or misting play pieces. Their material of choice to use in the fabrication process is GFRC (glass fiber reinforced concrete). With their sister company, the Chimes Company,  they can integrate sensory equipment and musical instruments into their designs.
George Laibe, who had forty years of experience in the amusement park industry, first became acquainted with the playground industry by becoming a sales representative for a playground manufacturer.1 Utilizing his abilities in designing and building themed amusement parks, George soon was designing and building themed playgrounds, landscape environments, and water parks.
In 2001, he formed the International Amusement Alliance, LLC, to diversify his amusement and recreation experiences. This included the design/build projects of wooden roller coasters, ride erection, and ride and park themeing as well as acting as project director for several new European amusement park projects. The company, located near Phoenix, Arizona, developed two subsidiaries: Themed Recreation Company and The Chimes Company.
The Themed Recreation Company designs unique play spaces, contracts with Alliance members to construct the structures out of reinforced concrete and fiberglass, and assembles the play spaces through their turn-key service. Their museum quality animal climbing structures are unique and any animal can be replicated.
Themed Recreation Company specializes in unique structures, such as a Noah's Ark component playground, a massive mastodon play structure, a triceratops icon, a whimsical reading bench landscaping feature, and a tortoise or iguana spray structure, to name but a few.2