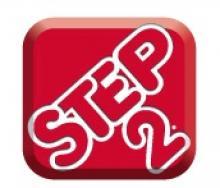 The Step2® Company is a manufacturer of preschool and toddler toys, garden and outdoor furniture products, and rotationally molded plastics. As part of The Step2 Holding Company, LLC, their mission is to create products that "build imagination and enrich the family's celebration of childhood."1 The company's name expresses their motto to go a step beyond what has been done before and their belief that "almost anything can be done better the second time around."2
Thomas G. Murdough, Jr. founded The Step2 Company in 1991 after having already created, prospered, and sold The Little Tikes Company, a manufacturing company of children's products. The Step2 Company began manufacturing in Twinsburg, Ohio and then expanded to the nearby Streetsboro location in 1992. When they were ready to expand again in 1995, they added a manufacturing plant in Perrysville, Ohio.
Besides the manufacturing plants, The Step2 Company maintains a retail store outside their headquarters in Streetsboro.  At the Step2 Store they encourage experimentation of their toys by having play models available, scheduling open and private play times, and offering birthday party options. They aim to facilitate play and the resulting unstructured learning which fosters "curiosity, expression, exploration, and discovery."3 These goals are also reflected in their play kitchen "Lifestyle" line and their outdoor play equipment "Naturally Playful" line.
The Step2 Company expanded again in 2006 by acquiring Infantino, a manufacturer of infant toys and accessories based in San Diego, California. The following year, 2007, brought further changes with the retirement of Tom, the creation of The Step2 Holding Company, LLC under the direction of the privately held Liberty Partners, and the hiring of Jack Vresics as president and CEO.4 Their manufacturing plants were also reconfigured to include their two plants in Streetsboro and Perrysville, Ohio and a partnership with Gunica Company in Korea to supply the Asian market.5
Another partnership, this time with early childhood experts, led to the Creative Play Plus blog online, which features current research on child development and creative play. In 2012 they received a Bronze Channel Innovation Award from Retail TouchPoints. This award recognizes innovative use and coordination of marketing technologies as well as technology innovations.6
1. "About Us." Step 2. < http://www.step2.com/about/ > 6 June 2012.
2. Liston, Linda. "Tom Murdough and The Step2 Company: Better the Second Time Around." Site Selection. 1998. < http://www.developmentalliance.com/docu/pdf/44006.pdf > 8 June 2012.
3. Shenk, Suzanne. Personal Correspondence to Playground Professionals. 3 Dec. 2012.
4. Op.cit., "About Us."
5. Op.cit., Shenk.
6. "Retail TouchPoints Announces Channel Innovation Awards 2012 Spotlighting Retailers Achieving Cross Channel Success in Challenging Retail Environment." PR Newswire. < http://www.prnewswire.com/news-releases/retail-touchpoints-announces-channel-innovation-awards-2012-spotlighting-retailers-achieving-cross-channel-success-in-challenging-retail-environment-153042575.html > 8 June 2012.