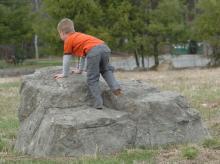 Rockwerx is a company based in central Massachusetts that designs, manufactures, and installs climbing walls, whose goal is "to build really cool climbing walls and have a great time doing it."1 Cort Gariepy, CEO of Rockwerx, began climbing at a Boy Scout Ranch in New Mexico during the summer of 1980. Having been raised in Massachusetts where rock formations are not so widely available, Cort fell in love with the challenge and adventure that climbing offered.
During his college years at San Diego State University he became proficient at rock climbing and co-wrote a business plan for a climbing wall business in his senior year. Cort and his partner Troy Chollar designed and built their first climbing wall in the garage of his college rental house. This led to a contract to build the climbing wall for the 1991 Southern California Climbing Championships, which was one of the largest competitions at that time. In three days time, Cort, Troy, and many volunteers constructed a scaffolding-supported climbing wall.2
Cort joined forces with Scott Hansen, one of the building volunteers, to create SolidRock Gym in 1993. A year later, Cort and Scott established SolidRock Wall Systems, a climbing wall construction company which offered a seamless textured wall system. As their business expanded along the West Coast and throughout the country, Cort moved back to Massachusetts to establish a sales office and serve the growing demand for climbing walls on the East Coast. By 1999, SolidRock had a manufacturing facility in Oceanside, California, a sales office in Barre, Massachusetts, high profile customers such as Disney and ESPN, and a new product – NaturalRock.3
In January of 2000, Cort and Richard Allan formed Rockwerx, a part-time portable climbing wall service for central Massachusetts. During this time, Cort was still designing climbing walls for SolidRock and coordinating their eastern sales and projects. By August of 2001, Cort sold SolidRock to Scott, but continued to design their large climbing gym projects as an independent contractor. As a result of SolidRock going out of business early in 2003, Cort ended up with the GymRock product line, which transformed Rockwerx from a portable climbing wall company to a large scale climbing wall builder.
The next four years brought major climbing gym contracts and two major changes to Rockwerx. They quickly outgrew their leased manufacturing building, so they bought 45 acres in central Massachusetts, designed their new facility, and self-built it over two years in and around their business contracts. By 2007, their new facility was completed, which now allowed them to add back in the NaturalRock line and to expand their product lines to include Playground Boulders and the more economical climbing wall option of SculptedRock.4
Also in 2007, they acquired Adventure Systems, who manufactured modular panels and marketed climbing gear.5 These 4' x 8' modular panels can be installed horizontally for younger children to transverse around the room or play space or they can be installed vertically for older youth and adults to climb with ropes. They also have five different finishes for appearances, durability, and price considerations.6
For 3-dimensional transversing for younger children, Rockwerx offers Playground Boulders that are scalable with or without additional bolt-on climbing holds. Their four sizes range from 3' to 8' in height and feature varying degrees of climbing difficulties.7
Rockwerx offers consulting expertise as well as routesetting programs and routesetting training for climbing gym staff. They also offer mats, flooring and padding; climbing holds; and an auto belay system.8
1. "Rockwerx – A History." Rockwerx. < http://www.rockwerxclimbing.com/4440.xml > 18 Aug. 2011.
2. Ibid.
3. Ibid.
4. "Sculpted Rock: A Merger between form and Function." Rockwerx. < http://www.rockwerxclimbing.com/4386.xml > 18 Aug. 2011.
5. Op.cit., "Rockwerx – A History."
6. "Modular Panels." Rockwerx. < http://www.rockwerxclimbing.com/5587.xml > 18 Aug. 2011.
7. "Playground Boulders." Rockwerx. < http://www.rockwerxclimbing.com/3295.xml > 4 Sept. 2011.
8. "Volumes – Fiberglass." Rockwerx. < http://www.rockwerxclimbing.com/4921.xml > 4 Sept. 2011.