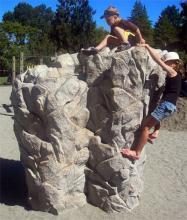 RockCraft Designs was incorporated in 2002, when Ed Fischer, a risk management expert, and Ken Crozier of Crozier Agencies, a distributor of playground structures in Canada, formed a partnership. With a head office in Winnipeg, Canada, and a design studio in Burnaby, British Columbia, Canada, RockCraft Designs offers two kinds of products: climbing boulders and poolside climbing walls. Ed and Ken incorporate the three principles of safety, climbability, and aesthetics in all of their designs, with Ed inspecting for safety on all finished products.
Ed's safety expertise goes back ten years to The Edge Climbing Centre, one of the first large scale indoor climbing gyms in Canada. Ed and his brother, Allen Fischer, constructed the Centre, and then Ed managed it for the next eight years. He developed a basic risk management program with the Association of Canadian Mountain Guides that involves teaching beginners essential safety skills and testing all would-be climbers as to proficiency. Through managing the Centre, developing safety programs, and consulting for other gyms, Ed became an expert at "evaluating and avoiding potential hazards in climbing systems."1
Ed and Allen formed The Edge Climbing Wall Systems in 1998 to construct large scale, indoor climbing walls. During the four years that Ed was a part of this company, he introduced the poolside climbing walls and playground climbing structures. These products later became part of RockCraft Designs. The Edge Climbing Wall Systems continues to focus on the larger scale climbing walls under Allen's leadership.
Both the poolside walls and the playground climbing structures are designed to provide the physical benefits of climbing for everyone, meaning that no special training or equipment is needed. With using a slant design for the pool walls and a basic V-shape for the climbing boulders, safe landings are assured since there are no obstacles to cause injury during a fall. Ed also avoids slabs, chimneys, corners, or large ledges since they can also impede a free fall and cause injuries. He designs without cracks or horns that could risk entrapment of limbs or clothing while climbing. Besides Ed's expertise, each RockCraft Designs playground climbing structure is certified by a professional engineer.
The RockCraft Designs playground boulders are uniquely handcrafted out of reinforced concrete (GFRC) with a variety of handholds to assist beginners and experts of all ages. The boulders are finished with West Coast granite, Selkirk Quartzite, or desert sandstone, and then clear-coated. The boulders are designed so that surfaces, holds, and ledges will self-drain, eliminating water pooling as a problem. Each boulder comes with a sign showing climbing holds and techniques.
Though each RockCraft Designs boulder is unique, they offer seven general larger designs (Lizard, Fitz Roy II, Cerro Torre, Eiger, Selkirk, Cheops, and Chief) and three general shorter designs (Ledge, Turtle, and Ascender). Each boulder design helps develop broad muscles, sharpen mental focus and troubleshooting, and improve coordination, agility, and balance. They provide a safe challenge for the teenagers as well as younger aged children.
The first Pool-side Climbing Wall was installed in 1998. They are 8' wide by 10' high and made of polyethylene, fiberglass, and stainless steel. RockCraft Designs offers both walls with obvious, colorful handholds and those with natural contours and holds.
1. "A History of our Company's Association with Risk Management in the Climbing Wall Industry." RockCraft Designs. < http://www.playwalls.com/risk.html > 2 Sep. 2004.