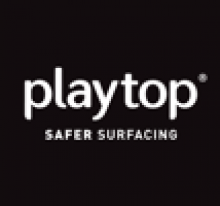 Playtop Safer Surfacing manufactures impact-absorbing wet-pour safety surfacing for play spaces and walkways at children's playgrounds. Designed to minimize the risk of injury to children who fall in playgrounds, the Playtop surfacing material is "a continuous, joint-free, porous material made from rubber granules and polyurethane binders."1
Playtop began in 1977 as a subsidiary of the Charles Lawrence Group located in Newark, Nottinghamshire, England.2 Their first project was the installation of a .5 inch (12 mm) thick porous rubber play surface for a housing project near Loughborough, England. Initially this layer was poured over either an asphalt or concrete base and had a spray top coat. They soon replaced this product with a .75 inch (15 mm) thick through-colored EPDM-rubber surface.3
At this time there weren't any scientific standards to indicate how deep an impact layer was needed to cushion children's falls from playground equipment. In 1981, the U.S. Consumer Product Safety Commission (CPSC) published the Handbook for Public Playground Safety, which led to the ASTM International (ASTM) publishing technical standards for fall heights.4
In Britain, Playtop used these standards as guidelines and assisted in establishing the Association of Play Industries (API) in 1984. They are also members of the Federation of European Play Industry (FEPI), the Sports and Play Construction Association (SAPCA), and the International Play Equipment Manufacturers Association (IPEMA).5
Utilizing these new safety standards, Playtop Safer Surfacing improved their surfacing to be a .5 inch (15 mm) top layer over a mixed base of mineral aggregate and rubber, which was laid on top of 6 inches (150 mm) of clean stone. The top layer could vary in depth according to the fall height of the play equipment and therefore could protect falls from up to 9.8 feet (3 meters). This product, Playtop 85, had improved surface porosity, could be installed year round, and eliminated the need for a concrete or asphalt foundation.
In searching for a more cost effective process in the 1990s, Playtop discovered using recycled rubber from vehicle tires. The Charles Lawrence Group designed and built their own plant for reducing old tires into rubber granules that Playtop used for surfacing needs. Their base layer utilized coarse granules while the red or green colored top layer was manufactured with finer granules, which were mechanically and chemically interlocked with the base layer.
By the end of the 1990s, Playtop had refined the granulate size of their base layer and introduced a diverse color range for the top layer. These changes created customized and colorful play surfaces while eliminating the need for an engineered surface under their two-layer system.6
A major operational change occurred in 1996 when Playtop licensed ProUrba to install the Playtop system in Paris. Their expanding market around the world brought Playtop to the decision to add locally based licensees who would be trained and supplied with product, promotional materials, and the necessary equipment to install Playtop surfaces. These partnerships now number over 45, and Playtop is installed in over 50 countries around the world.
In 2005, Playtop joined Nike in recycling old sports shoes and creating rubber granules that are incorporated in the top layer of their playground surfacing. With up to 20% of the resulting "Nike Grind" included, the surface takes on a speckled look.7 Between the tire and shoe recycling, Playtop has reduced the initial costs and the life cycle costs of their surfacing as well as utilizing 12 pairs of sports shoes and 1 commercial tire for each square meter of surfacing.8
Also in 2005, Playtop received the Best International Communicator for their website. The following year they were honored by the Queen's Award for Enterprise in Industry.
Since then, Playtop has expanded into the play space design arena with two new products. The Playtop Spheres are three dimensional colored rubber spheres that are anchored to the ground. These come in three diameters and can be used as decoration, seating, or a play component.9 Another new product is the Playtop Street, a Nike Grind oval play surface with 12 interactive play events that include touch activated lights and sounds. The first US Playtop Street was installed in October 2011 in Ogden, Utah.
Concerning this combination of playground equipment and sound-light touch technology, Vincent Garrett, the director of business development for Playtop US, said, "Technology drives many aspects of today's world; however we cannot lose sight of the importance of physical activity and social interaction as part of a healthy lifestyle."10
1. "Construction." Playtop Safer Surfacing. < http://www.playtop.com/global/page.asp?node=675&sec=Construction > 30 Jan. 2012.
2. "Recycling." Playtop Safer Surfacing. < http://www.playtop.com/global/page.asp?node=672&sec=Recycling > 14 Dec. 2011.
3. Baker, Barry. "The First Thirty Years of Playtop." Playtop Safer Surfacing. < http://www.playtop.com/global/page.asp?node=671&sec=History > 14 Dec. 2011.
4. Norquist, Tom. "ASTM Standards and the IPEMA Certification Program." Standardization News. < http://www.astm.org/SNEWS/MARCH_2003/norquist_mar03.html > 29 Jan. 2012.
5. "Standards." Playtop Safer Surfacing. < http://www.playtop.com/global/page.asp?node=673&sec=Standards > 14 Dec. 2011.
6. Op.cit., Baker.
7. Op.cit., Baker.
8. "Nike Grind." Playtop Safer Surfacing. < http://www.playtop.com/global/page.asp?node=674&sec=Nike_Grind > 14 Dec. 2011.
9. "Playtop Spheres." Playtop Safer Surfacing. < http://www.playtop.com/global/page.asp?node=662&sec=Playtop_Spheres > 14 Dec. 2011.
10. "Playtop Builds First-Ever Playtop Street With Nike Grind Playground in United States." Playground Magazine. < http://www.playgroundmag.com/playground-news/display.cfm?&id=2551&category=News > 14 Dec. 2011.