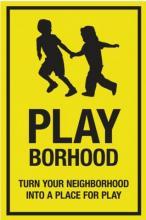 Since 2007, Mike Lanza has posted to his blog, Playborhood, longing for the "Leave it to Beaver" days that seem to be lost forever. Concerned that unstructured free play has "virtually vanished from the lives of most children in America," he is committed to voicing his concerns to build a community of parents who will become more aware of the problems and seek to implement the best solutions.
In April 2012, Mike published a book on this topic entitled Playborhood: Turn Your Neighborhood Into a Place for Play. It is aimed at parents who would like to give their children a life of neighborhood play, but who need some inspiration and ideas on how to make it happen.1
Mike is an ex-Silicon Valley entrepreneur who is raising his three boys with his wife in Menlo Park, California. A large portion of his insights come from his experience in creating a Playborhood for his boys there. In addition, Mike writes about dozens of other innovative Playborhoods in North America.
The website's and book's tagline is: Turn Your Neighborhood Into a Place for Play. Realizing that he needs to win over the hearts and minds of parents, he is seeking to promote a "Playborhood Movement" that will empower parents to give children "a life of play and autonomy in their neighborhoods."2
Mike argues that the "ultra-structured, adult-mediated American childhood of today" is more than just a lack of fun for children. With the restriction of child-directed play and freedom to roam the neighborhoods, children lack opportunities "to develop social skills, leadership skills, and creativity." Unlike many bloggers and authors who focus on describing this problem, Mike's aim is to find solutions and to communicate them to parents.3
1. Lanza, Mike. Private correspondence to Playground Professionals. 1 March 2012.
2. Lanza, Mike. "We're Going to Get Louder, Folks!" Playborhood.com. < http://playborhood.com/2012/01/were-going-to-get-louder-folks/ > 24 Jan. 2012.
3. Lanza, Mike. "Mike's Manifesto." Playborhood.com. < http://playborhood.com/2007/10/mikes_manifesto/ > 25 Jan. 2012.