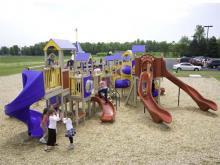 Play Mart, Inc. is the Beach family business that began nearly thirty years ago in 1981. Dennis Beach is a Landscape Architect who graduated from Rutgers in 1971 and then developed hiking trails in Lathrop State Park in Colorado for the Game, Fish & Parks Department. While working there, he met Rebecca, who was also passionate about the outdoors. They married, started a family, and eventually moved to Woodstock, Kentucky, in 1978.
Three years later, in 1981, the local PTA asked Dennis to build a playground. This reawakened an interest he had had as a senior at Rutgers, where he built his first playground with a grant and community kids. Combining his creative engineering, construction experience, and landscape training, Dennis founded Play Mart as a family business. Dennis was designer, Rebecca was over sales, and their home-schooled children worked in manufacturing and installation as soon as they were able.
That was the same year that the U.S. Consumer Product Safety Commission (CPSC) published the Handbook for Public Playground Safety, and safety became the leading focus in playground designs. Dennis obtained his Certified Playground Safety Inspector (CPSI) certification from the National Playground Safety Institute (NPSI),1 and brought his previous designs into compliance with the new safety guidelines.
At this time, most of Play Mart designs were wood structures. Becoming dissatisfied with the liability, maintenance, and longevity problems, Dennis turned to plastic lumber made from recycled products. By 1999, they had found a quality supply of plastic lumber for their designs, but as sales grew they needed more than their supplier could deliver. In 2006 Play Mart began manufacturing Recycled Structural Plastic (RSP) from reclaimed #2 High Density Polyethylene to ensure the quality of their plastic lumber, the available supply, and the recycling of nearly all manufacturing waste.
Using RSP, Play Mart offers Mega and Mini Play Systems, Nature of Early Play Systems, Fitness Systems, Themed designs, Swings, Site Amenities, Safety Surfacing, and Playground Border options.
Mega and Mini Play Systems are both designed for preschool and elementary ages and differ only by size. The Mega System has decks 46" by 36" and 6" posts with up to 10' slides and decks. The Mini Play System, which is designed for smaller space requirements, has decks 24" by 31" and 4" posts with slides and decks up to 6'.
Play Mart offers 40 different designs for both size play systems. All decks are made with Play Mart's exclusive SureStepslip-resistant, ridged RSP, and all hardware, welds, and attachments are stainless steel. They also offer slip-resistant climbers. Play Mart's play equipment for public use is International Playground Equipment Manufacturers Association (IPEMA) certified.
Focusing on the younger children, Play Mart offers the Nature of Early Play. Moving away from the themed play systems of past years, it focuses on multifunctional elements that encourage children to use their imagination as they experience the natural world, gardening, music, and art. They have over fifty play components to combine in structures for children from infancy through five years of age. In 2010, Head Start Body Start included Play Mart in the list of providers that offer playground equipment for purchase by Head Start Centers that have been awarded grants to purchase playground equipment.2
Play Mart's Fitness Systems are designed for ages eight through adults and can be utilized as
fitness
centers, fitness tracks, or fitness stations along trails.
While Play Mart is located in Somerset, Kentucky, they have a network of wholesale dealers throughout the United States. Besides selling to parks, schools, day-care facilities, and housing centers, they also serve government entities through U.S. General Services Administration (GSA) contracts. They offer three options for installation: their own CPSI certified crews, support for a local CPSI certified contractor, or a Play Mart supervised community built project.
Play Mart offers a Take Back program for recycling used Play Mart Playgrounds. They give credit towards new purchases for shipping back used RSP equipment. This allows playgrounds to upgrade components to stay age appropriate and current with their needs. Play Mart often uses the used equipment for play spaces for impoverished areas around the world.3
Play Mart was awarded the 2010 Evergreen Award by the U.S. General Services Administration for their efforts in doing business in an environmentally friendly way. Regional Administrator David H. Ehrenwerth stated, "We are honored to partner with companies that help us to green the government's supply chain while creating a more sustainable environment and building a greener future."
4
1. NPSI was a program under the National Recreation and Park Association (NRPA).
2. "Play Mart, Inc. Selected as 2010 Head Start Body Start Preferred Provider." Play Mart. < http://www.playmart.com/eventspress/headstartbodystart_release.shtml > 4 April 2011.
3. "Green Zone." Play Mart. < http://www.playmart.com/greenzone.shtml > 26 Sep. 2010.
4. "GSA Presents Evergreen Award to Four Innovative Environmentally Friendly Businesses." U.S. General Services Administration. < http://www.gsa.gov/portal/content/241621 > 4 April 2011.