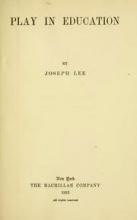 Published in 1915, Play in Education was written by Joseph Lee, one of the most influential of the recreation pioneers, who was known as the "Father of the Playground Movement." As early as the 1880s Lee was involved in working to provide playgrounds in underprivileged neighborhoods. As a wealthy lawyer, social activist, and philanthropist, he devoted his life to promoting play and recreation opportunities to America's neighborhoods.
This book became a recreation classic, and Lee's aim was to present a true picture of the child and the major role of play in education. His philosophy and principles were developed from his observation and experiences with children.1
Recognizing the difficulty in explaining to adults the importance of play for children, he expounded that play is the most important factor in their lives. He stated "Play is to the boy what work is to the man – the fullest attainable expression of what he is and the effective means of becoming more."2
The Five Books of Play in Education
Play in Education is divided into five books:
Book I. Play is Growth
Book II. The Baby Age - from one to three
Book III. The Dramatic Age – from three to six
Book IV. The Big Injun Age – from six to eleven
Book V. The Age of Loyalty – from eleven to fourteen
Play in Education: Book I. Play is Growth
In Book I Lee laid the groundwork that play is serious. "If you will watch a child playing, I think the first thing you will be struck by will be his seriousness. Whether he is making a mud pie, building with his blocks, playing ship or horse or steam engine, or marching as a soldier to defend his country, you will see, if you watch his face, that he is giving his whole mind to the matter in hand."3 He went on to suggest that the supreme seriousness of play gives it its educational importance. He described that play is part of natural growth and that it trains for life experiences. He also described the play "instincts" of creation, rhythm, hunting, fighting, nurture, curiosity, and team play, which direct the child's growth through play.
Play in Education: Book II. The Baby Age - from one to three
Lee presented a descriptive "portrait" of babyhood of children from birth to about three years old in Book II. Their social development begins with the baby's parents. Manipulation of the hands broadens the child's world as he learns to grasp items and use them eventually as tools. Using building blocks, playing in sand, and exploring constructive play set the foundation for creativity and scientific thought.
Play in Education: Book III. The Dramatic Age - from three to six
Book III tackled The Dramatic Age for children from three to six years of age. The impersonations and role play of children is described as their method of understanding the world around them. They become interested in dolls, horses, soldiers, animals, and other toys they can incorporate into their play. Their dramatic play takes on a social aspect as they play as the father, mother, or other role. Lee also described the importance of rhythm to children beginning with pat-a-cake with babies to sing-song games of older children.
Play in Education: Book IV. The Big Injun Age- from six to eleven
Children aged six to eleven are described in Book IV as being in The Big Injun Age. This stage is described as children leaving dramatic play for reality. Exploration and use of tools helps children in this age determine what is real in their world. Chasing, climbing, fighting, and competition come to the forefront as well as nurturing and dreaming.
Play in Education: Book V. The Age of Loyalty - from eleven to fourteen
The Age of Loyalty as described in Book V dealt with children from eleven to fourteen. The belonging instinct leads to experiences with belonging to teams and children's gangs and clubs. Lee described how play and loyalty differs with girls and also described boys' and girls' mutual attractions and romantic inclinations.
Play in Education Concluded
Lee concluded his book with the chapter Play The Restorer. "I have described the process by which I believe the great achieving instincts build up the child. Man, the outcome of the process, is the incarnation of these instincts."4