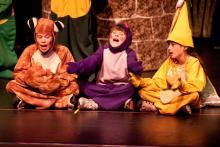 The Missoula Children's Theatre (MCT) is committed to the development of life skills in children through their involvement in the performing arts.1 Communication, self-discipline, and team work skills are fostered through MCT's local children's theatre, international traveling theatre, performing arts camps, and their Next Step Prep summer high school performance arts program.
The Missoula Children's Theatre began in 1970 with a broken down Volkswagen, the play Man of La Mancha, and an unemployed actor.2 While Jim Caron was waiting for his van to be fixed, he auditioned for a part in the play. Winning the main part of Sancho, Jim decided to stay in Missoula and play a part he had always wanted to perform. Jim became friends with the other lead, Don Collins, and together they formed an acting company.3
In the beginning, Jim and Don's company performed for children in Missoula and nearby communities. When they performed plays that included children's parts, they would use Missoula children in their performances. In 1972, when they were preparing to perform Snow White and the Seven Dwarfs in Miles City, Montana, they decided to not transport the "seven dwarfs" over 500 miles of icy roads. Instead, they hoped they could find seven local children to play the parts.
After advertising locally, their directors went to Miles City a week early to audition and prepare the children. Their skepticism at finding seven children to perform turned to astonishment when 450 children showed up to audition. Not only could they easily find seven children, but the local interest in the production meant a sold out performance as well.4 Jim and Don saw a whole new way to bring the performing arts to children in both urban and rural communities.
What began in Miles City has morphed into an international phenomenon. Indeed, MCT's worldwide International Tour company utilizes one-hour-long musical scripts of children's stories, a red pickup truck that transports the touring artists, props and costumes, and a two person tour team. In one week they choose the cast; teach the children how to memorize their parts, music, and choreography; stage the play; and facilitate the performances. In 2011, MCT utilized approximately 47 two person teams and a repertoire of 24 titles to produce live theatre across the geographic scope of the entire United States, Canada, and about 150 U.S. military bases.5
In addition to the International Tour opportunity, the Missoula Children's Theatre offers day camps, performing arts classes, Next Step Prep boarding school summer course, and play performances for children in classes K-12. Headquartered in the MCT Center for the Performing Arts since 1998, it shares its facilities with the Missoula Community Theatre.6
Funded by private and corporate foundations and corporate trusts such as the Montana Cultural Trust, the Montana Arts Council, and the National Endowment for the Arts, MCT brings the value of the performing arts to communities that no longer have funding for their own arts programs.7 Rooted in its core philosophy is MCT's vision for the performing arts "as a vehicle to develop the life skills, work ethic, and self-esteem necessary to answer the challenges of our time."8
1. "Mission Statement." Missoula Children's Theatre. < http://www.mctinc.org/About_MCT/Mission_Statement > 13 April 2012.
2. "History." Missoula Children's Theatre. < http://www.mctinc.org/About_MCT/History > 13 April 2012.
3. "Theatre Program Gives New Meaning to 'Playtime'." PBS Newshour. July 23, 2009. < http://www.pbs.org/newshour/bb/entertainment/july-dec09/missoula_07-23.html > 13 April 2012.
4. Op.cit., "History."
5. Op.cit., "Theatre Program Gives New Meaning to 'Playtime'."
6. Op.cit., "History."
7. Missoula Children's Theatre. < http://www.mctinc.org/index.aspx > 26 April 2012.
8. Op.cit., "Mission Statement."