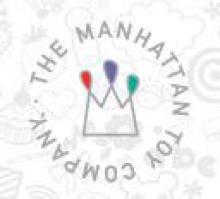 Manhattan Toy designs, manufactures, and markets toys that "blend science and whimsy" for visual and tactile stimulation and imaginative play. They believe that "play is not only fun, it's essential to a child's cognitive, emotional, and social development."1 A few of their toy brands include Whoozit, Groovy Girls, Dr. Seuss, Manhattan Baby, Fraggle Rock, and the Imagine I Can activity kits.
Francis Goldwyn founded Manhattan Group in 1978 in New York City and began selling stuffed soft toys under the name of Manhattan Toy.2 They became known for partially stuffing toys to give them a floppy feel and for exploring the use of plush fabrics. Their first successful line was the plush dinosaurs introduced in 1984 and marketed to high end stores such as F.A.O. Schwarz and Bloomingdale's.3
Focusing largely on producing "classic toys" that appeal to both parents and their children, they have created mobiles, plush toys, puppets, dolls, and activity toys.4 Besides designing toys, Manhattan Toy has also acquired innovative toys through company acquisitions. One example was their 1997 acquisition of Pappa Gepetto, the manufacturer of the popular "modern" rattle, the Skwish.5
In 1998 Roger Bildsten became CEO of Manhattan Toy and released Groovy Girls, a line of stuffed "wholesome" dolls to provide an alternative to the Barbie and Bratz dolls for young girls. The Groovy Girls line expanded to include accessories and environments for play. They also included diverse body shapes and ethnicities to appeal to girls 3 through 12 years of age. Six years later, they would link with Scholastic Corporation to produce Groovy Girl books and magazines that "encouraged girls to develop their own personal style and to learn about the power of friendship."6
Manhattan Toy formed a partnership with Dr. Seuss Enterprises in 1999. They began to manufacture Dr. Seuss character plush toys and puppets such as The Cat in the Hat, The Grinch, The Lorax, and the Norton a Sit Upon toy. Their puppets and Hug Arounds lines encouraged physical interaction with Dr. Seuss characters while reading.
In addition to their lines of puppets, plush toys, and stuffed dolls, in 2000 Manhattan Toy also began to offer the Manhattan Toy Baby line and the Whoozit brand of toys.7 Five years later the Manhattan Baby line would expand into educational toys such as the interactive sensory toy, Big Top Sounds. Arete Passas was hired as the new CEO of the company in 2005 after Roger left for a position with another company. Passas led the company's efforts to give back to the community through large product donations for worthy causes and relief efforts for natural disasters.
Manhattan Toy has employed award winning designers, such as A.J. Dewey who had previously designed for Sesame Street, Marvel, Peanuts, and Pepsi Cola.8 During the two years as a senior designer at Manhattan Toy (2004-2006), Dewey created the line of Groovy Girls Petrageous, the pixies of Trixieville, and the Cirque Du Soleil line of toys. For the specialty market, Dewey was one of the first to design molded plastic fashion dolls (pixies) with rooted hair, and he custom printed fabrics for the Cirque Du Soleil toys.
After 25 years of marketing through exclusive specialty toy stores, in 2005 Manhattan Toy began a partnership with Target stores to sell a limited selection of Groovy Girls and Whoozit toys. This move doubled their sales and broadened the popularity of these lines.9
Manhattan Toy's products have received numerous awards, including Parents' Choice, Oppenheim Toy Portfolio, Dr. Toy, Creative Child Magazine's award, American Specialty Toy Retailing Association's (ASTRA) Best Toys, and Canadian Toy Testing Council (CTTC) Children's Choice.10 The company is located in Minneapolis, Minnesota.
1. "Manhattan Toy Company." Kazoo Toys. < http://www.kazootoys.com/manhattantoy.html > 4 Aug. 2013.
2. "About Manhattan Toy – Imaginations at Play!" Manhattan Toy. < http://www.manhattantoy.com/k/about-us/About+Us > 8 June 2012. Note: He was the grandson of Sam Goldwyn, a major motion picture studio owner.
3. "Manhattan Group, LLC." Answers. < http://www.answers.com/topic/manhattan-group-llc > 4 Aug. 2013.
4. Op.cit., "Manhattan Group."
5. "Skwish." Wikispaces. < http://tensegrity.wikispaces.com/Skwish > 4 Aug. 2013.
6. Op.cit., "Manhattan Group."
7. Op.cit., "Manhattan Group."
8. "A.J. Dewey." The Fabulatory. < http://www.fabulatory.com/AJbio.html > 4 Aug. 2013.
9. Op.cit., "Manhattan Group."
10. "Award Winners." Manhattan Toy. < http://www.manhattantoy.com/c/award-winners > 4 Aug. 2013.