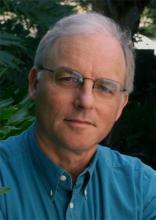 Richard Louv (1949) is an American journalist and author of eight books about the connections between family, nature, and community. Coining the term Nature-Deficit Disorder, his highly-acclaimed book, Last Child in the Woods: Saving Our Children From Nature-Deficit Disorder, was first published in 2005 and has since been translated into ten languages and published in fifteen countries. The book sparked an international dialogue about the declining relationship between children and nature.1
Having spent ten years traveling around the country asking parents and children alike about their experiences in nature, he discovered that in the last two generations there has been a significant decline in time spent enjoying nature.2 The shift in the relationship to the natural world has been evidenced by the amount of time children are found indoors using computers, video games, and watching television and movies. Urban design has made natural settings less accessible, and cultural attitudes have scared children out of the woods. With less outdoor play enjoyed by children, Richard addressed the concerns of healthy childhood development with the necessity for contact with nature and nature play.3
The call-to-action to address the concerns of Nature-Deficit Disorder has influenced national policy and helped inspire campaigns in over eighty cities, states, and provinces throughout North America.4 Richard and five other leaders in diverse fields created the nonprofit Children & Nature Network in 2006 with the initiative to "Leave No Child Inside."5 The mission of the Children & Nature Network is to reconnect children to nature for two purposes: the physical health, cognitive development, and emotional well-being of the child, and the good of the planet.6
Richard's book published in 2011, The Nature Principle: Human Restoration and the End of Nature-Deficit Disorder, suggests that people of all ages need a connection to the natural world for healthy living. He suggests that the restorative powers of nature can boost creativity and mental acuity, strengthen human relationships, and promote health and wellness.7
Richard has also authored six other books:
Fly-Fishing for Sharks: An American Journey (2001) – describes the connections of fishing, family, and nature
The Web of Life (1996) – explores the connections of family and community encouraging the preservation of oral family histories
Fatherlove (1994) – defines the role fathers should play in children's lives
101 Things You Can Do for Our Children's Future (1993) – suggests that communities and families together need to take responsibility for children's welfare
Childhood's Future (1993) – calls for rebuilding community and family life
America II (1983) – addresses the new urban form and reinvented communities8       
In 2008, Richard was awarded the Audubon Medal, presented by the National Audubon Society. He is also the recipient of the Cox Award for 2007, Clemson University's highest honor, for "sustained achievement in public service" and has been a Clemson visiting professor. Among other awards, Richard is the recipient of the 2008 San Diego Zoological Society Conservation Medal, the 2008 George B. Rabb Conservation Medal from the Chicago Zoological Society, and the 2009 International Making Cities Livable Jane Jacobs Award. He also serves as Honorary Co-chairman, with artist Robert Bateman, of Canada's Children and Nature Alliance.
Richard has written for The New York Times, The Washington Post, The Times of London, and other major publications as well as appearing on many national TV shows. Between 1984 and 2007 he was a columnist for The San Diego Union-Tribune and has been a columnist and member of the editorial advisory board for Parents magazine. Richard was an advisor to the Ford Foundation's Leadership for a Changing World award program. He serves on the board of directors of ecoAmerica and is a member of the Citistates Group. He has appeared before the Domestic Policy Council in the White House as well as at major governmental and professional conferences, nationally and internationally, and was the keynote speaker at the American Academy of Pediatrics National Conference in 2010, where he spoke on "Grow Outside!" encouraging those in the medical field to appreciate the need for enjoying the outdoors for healthy living.9
1. "About Richard Louv." Richard Louv. < http://richardlouv.com/about/ > 28 July 2011.
2. Karnasiewicz, Sarah. "Do today's kids have 'nature-deficit disorder'?" Salon.com. < http://dir.salon.com/story/mwt/feature/2005/06/02/Louv/index.html > 13 July 2011.
3. "Excerpt from Last Child in the Woods." Richard Louv. < http://richardlouv.com/books/last-child/excerpt/ > 28 July 2011.
4. "Books by Richard Louv." Richard Louv. < http://richardlouv.com/books/ > 13 July 2011.
5. "Children and Nature 2009: A Report on the Movement to Reconnect Children to the Natural World." Children & Nature Network. < http://www.childrenandnature.org/downloads/CNNMovement2009.pdf > 7 June 2011.
6. "Children & Nature Network 2010 Report, Introduction." Children & Nature Network. < http://www.childrenandnature.org/downloads/C&NNReport_2010.pdf > 7 June 2011.
7. "The Nature Principle." Richard Louv. < http://richardlouv.com/books/nature-principle/ > 28 July 2011.
8. Op. cit., "Books by Richard Louv."
9. Op. cit., "About Richard Louv."