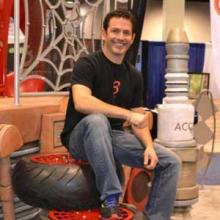 Todd Lehman is the founder and executive creative director of Cre8Play, a custom design playground manufacturer. What started as a one-person design company expanded to a fully integrated design-build operation with over 20 employees.
Todd grew up with the freedom to play with his friends in an empty vacant lot. Climbing trees, building secret forts, and enjoying the natural elements of the outdoors was much more exciting to him than the school playground with its "dull metal monkey bars, peeling paint, splinters and a steel slide that poured bored kids onto the gritty blacktop below."1
Todd's father was the Parks and Recreation Director in New Hope, Minnesota, while he was growing up. His dad would bring home playground models to get his young son's impression. Todd would disassemble them and look for a better way to configure the playground elements. His dad went on to have a long career with a large playground company and Todd followed in his footsteps designing traditional playgrounds as well.2
In 1999 he was asked to design a unique custom play area with natural elements in it. This was a new experience which required him to assemble a team of people to create the structures he had envisioned. This led to more creative projects, which eventually led him to start his own company.3
After 16 years working in the traditional playground industry, Cre8Play was founded in 2005. Using durable materials like glass-fiber reinforced concrete (GFRC), steel, and a variety of sculpting epoxies, Cre8Play matches natural settings with realistic-looking logs, sculpted animals, and rock structures that are fun and fanciful. Believing that the play environment should allow for an immersive experience that inspires children to use their imaginations, each Cre8Play playground is custom-made and encourages active play.4 Their goal is to design and build playgrounds to "play in" rather than "play on."5
1. Lehman, Todd. "Creating an Immersive Playground Experience." LandscapeOnline.com. < http://landscapeonline.com/research/article/16563 > 7 Sept. 2015.
2. Ibid.
3. Lepley, A. J. "Cre8Play: Havng a blast every single day." The Park & Rec Trades. < http://www.golfcoursetrades.com/park/particles_det.php?id=33 > 7 Sept. 2015.
4. Op. cit., Lehman. "Creating an Immersive Playground Experience."
5. Lehman, Todd. "Mindful Design – The New Face of Play." Play and Playground Magazine. < http://www.playgroundprofessionals.com/magazine/issues/2014/03/mindful-design-new-face-play703 > 4 Aug. 2015.