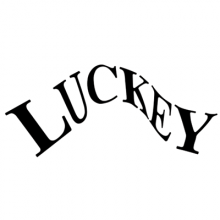 Luckey LLC designs, manufactures, and installs Luckey Climbers: unique multistoried, three dimensional bespoke climbing sculptures encased in safety nets. Besides encouraging physical activity, gross motor skill development, and intellectual development through imaginative play, Luckey Climbers are "vertical mazes" or "vertical parks" for children's museums, malls, and other institutions worldwide.
While a Luckey Climber has been called "a piece of public art, a Calder mobile fashioned from Monet's lily pads,"1 Lou Casagrande, president and CEO of the Boston Children's Museum, says they are "sophisticated sculptures that kids need to master. There is no simple vertical path. They have to figure it out and end up being self-confident, secure learners."2 Gail Ringel, also with the Boston Children's Museum, notes how Climber designs involve "neutral play spaces where a child's imagination fills in all the blanks" instead of being recognizable objects of play such as a dinosaur or plane.3
Founder Tom Luckey graduated from Yale University with an architecture degree in 1962 and with a master's degree in architecture in 1966.4 Even with the degrees he knew he was not a traditional architect. Since he liked to build things, he began with custom work such as a wooden staircase that folded into a slide or a rotating room that could be turned to hold a bed or a couch or a desk.
Tom also created fanciful merry-go-rounds, one of which was featured in New York's Central Park. This caught the attention of Agnes Gund of New York's Museum of Modern Art. Agnes, aware that the Boston Children's Museum was moving to a new location, insisted Tom contact them. He did and persuaded the museum to commission his first climbing structure. After three years, the first Luckey Climber was completed.5
Over the next three decades Tom continued to create, build, and install climbers in a variety of settings, including in Mexico City where he was just told to "do your thing."6 Along the way he learned to utilize S hooks to create a diamond-like pattern in the steel mesh cables, to use lighting and fanciful painting effects, to add staircases and multiple entry points, to use curved steel pipes and curved plywood sheets, and to design in "hang out" nooks and crannies.
By 1985 Tom officially organized Luckey LLC as he continued to supply museums, centers, zoos, and malls with Climbers. Business as usual shifted dramatically after Tom finished the Lincoln Park Zoo Climber. On 16 September 2005, one day before his oldest son Spencer's wedding, Tom fainted in the early morning hours and fell down two stories striking his head in the process.7 He survived, but became paralyzed from the shoulders down.
Determined to carry on, Tom joined forces with Spencer, who is also an architect from Yale, to bring in a new era of Luckey LLC. Perhaps significantly, together they worked to complete their commission to replace Tom's first Climber with a new 30 foot design for the expanding Boston Children's Museum. Other changes in the company with Tom's paralysis was the greater use of computer designing, updating use of technology, and a spirit of collaboration with Spencer in the design process.
Based in a 5000 square foot design and fabrication facility in New Haven, Connecticut, they use digital designing, on-site steel fabrication, 5-axis CNC mill for detail cutting, and Vacu-press vacuum forming system for finishing.8 Tom used a computer mounted above his head with a reflective "mouse" attached to the tip of his nose for his designing.9
With structures reaching 40 and 50 feet tall, safety is a design concern. Luckey's motto is "If you cannot stand up, you cannot fall down."10 With that in mind they design only 18 inches between all stairs to encourage crawling as children climb higher. They also have no "stair-like" cascades of falls in the designs, and all designs are encased in a mesh of steel cables. At least one recent Climber, the Delaware Children's Museum Climber, is also fully accessible for children and adults of all abilities, partly due to Tom's greater awareness of accessibility needs.
After nearly 7 years of creating Climbers as a team, Tom died in August 2012 of pneumonia. Now, with their production team, Spencer continues the Luckey Climbers tradition of "redefining the idea of climbing."11
1. Jermanok, Stephen. "Ready. Set. Climb." The Boston Globe. 18 March 2007. HighBeam Research. < http://www.highbeam.com/doc/1P2-8699261.html > 1 July 2014.
2. Ibid.
3. Varley, Robert. "Tom Luckey: Not your traditional architect; Climbing new heights." New Haven Register 31 May 2006. HighBeam Research. < http://www.highbeam.com/doc/1P2-12597310.html > 1 July 2014.
4. Garrity, Philip. "A Profile of Climbing Structure Designer Tom Luckey." Winchester. July 2012. < http://www.westchestermagazine.comWestchester-Magazine/July-2012/A-Profile-of-Climbing-Structure-Designer-Tom-Luckey/ > 30 June 2014.
5. Op.cit., Jermanok.
6. "Some of Our Work." Luckey LLC. < http://www.luckeyclimbers.com/?q=portfolio > 30 June 2014.
7. Op.cit., Varley.
8. "Questions." Luckey LLC. < http://www.luckeyclimbers.com/?q=faq-page > 30 June 2014.
9. Op.cit., Garrity.
10. Op.cit., "Questions."
11. Luckey LLC. http://www.luckeyclimbers.com/ 30 June 2014.