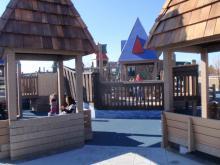 Bob Leathers originally started his business as an architectural company specializing in residential construction and design. However, in 1971, Bob was asked if he would organize a group of people to help build a playground at his children's elementary school. Bob talked to the students at the school to get their thoughts about what the playground should look like. He based his design for the playground on the ideas from those children. After helping with this playground and seeing the need for community built playgrounds, Bob founded Leathers and Associates in 1971 in Ithaca, New York.
To date, Leathers and Associates has succeeded in helping to build almost 3000 community assisted playgrounds throughout the United States and in 7 other countries. Bob's son, Marc Leathers started with the firm as a teenager and now owns the company.1
At Leathers and Associates they express 9 reasons why community built playgrounds help build better communities:
Community – Everyone helps with the design thereby gaining a sense of empowerment and accomplishment thereby strengthening the community as a whole.
Accessibility – Americans with Disabilities Act (ADA) compliant. Opportunities for inclusive play should be planned for children with a wide range of disabilities, including children that are blind or hearing impaired as well as those with mobility issues that may require wheelchairs or other aids.
Experience – Firm has been building community built playgrounds for 40 years, and because of this, they have excellent systems for working with volunteer groups.
Design, Innovation, and Flexibility – Community built playgrounds can incorporate the local history which will make the playground unique to each community.
Quality Materials – Surface materials must meet the ASTM International (ASTM) standards for accessibility (ASTM F1951) and impact attenuation (ASTM F1292). Projects are built with either structural plastic or environmentally safe pressure treated lumber.
Cost – Volunteer labor and donated materials help to keep costs down.
Safety – All designs conform to ASTM F1487, CPSC Pub. No. 325.
Service – Unlimited personal telephone and email support.
Long Lasting Structure – Properly maintained the playground can last for up to 25 years.2
Leathers and Associates have a four step program to give to communities:
Step 1. Getting Started. Inform the community about what is necessary to begin planning the project, such as coordinating volunteers, finding a site, etc.
Step 2. Design Day. The community leaders and children meet with a designer to go over the plans and project. The day ends with the Leathers and Associates designer showing a schematic plan that the children helped to design.
Step 3. Organization Phase. The project manager will speak to the volunteer committees about all plans, responsibilities, construction, and scheduling details.
Step 4. Construction. The volunteers will construct and work on the project along with Leathers' construction consultants.3
Community built is not just about getting a playground built, but the main goal is to bring communities together and empower volunteers.
1. "About Us." Leathers and Associates. < http://www.leathersassociates.com/aboutus.php > 5 Aug. 2010.
2. "Why Community Built?" Leathers and Associates. < http://www.leatherassociates.com/why_community_built.php > 17 Aug. 2010.
3. "Step By Step." Leathers and Associates. < http://www.leathersassociates.com/step1.php > 17 Aug. 2010.